Saying goodbye to your students can be difficult, but it doesn't have to be. This collection of inspiring farewell messages to students offers meaningful and heartwarming words for student leavers to make sure their time at your school ends on a positive note.
Heartwarming Farewell Messages to Students
As you embark on the next stage of your journey, don't forget to keep pursuing your dreams and never give up.
There will be challenges along the way, but with dedication and hard work, you can achieve any goal you set for yourself. So what are you waiting for? Your future is waiting.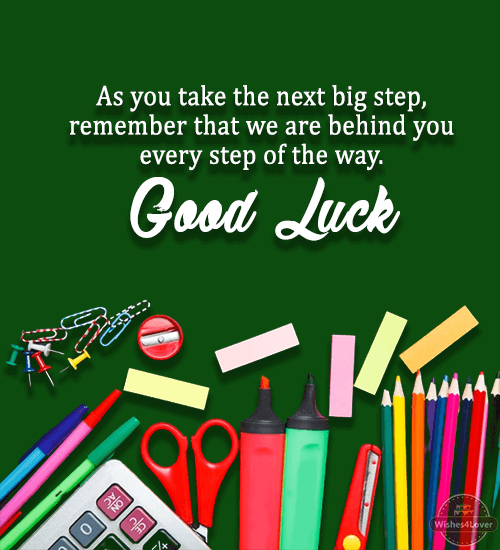 Believe in yourself, and don't forget to have faith in the future. Goodbye dear.
As you turn the page and begin your next adventure, remember that you are capable of anything you set your mind to.
Believe in yourself and don't forget to have faith in the future. You have all the tools inside of you to make it happen. So take a deep breath, stay focused, and never stop reaching for the stars!
Be kind, be honest, and follow your passions. Good luck.
Throughout your life, it's important that you always stay true to yourself and act with kindness. As tempting as it is to compare yourself to others, never underestimate the power of your own unique talents and abilities.
Life will bring its fair share of ups and downs, but ultimately if you stay focused on your passions, opportunities will arise that you never knew existed. Good luck!
Remember to always remain humble and open to new ideas and experiences. Goodbye.
As you go out into the big wide world, remember to stay humble and open to new ideas and experiences. Life has a funny way of presenting us with unexpected opportunities and surprises, so stay alert and be open to seizing them when they arise.
Take new chances and don't forget all you have learned during your time here. Make sure that some of those stories have happy endings!
Always stay grateful for every opportunity that comes your way and make sure you thank those who helped you get there!
Cherish every moment and opportunity that comes your way and always remembers to express your gratitude to those who have helped you get there. As you bid farewell, remind yourself of the wonderful experiences shared, the precious moments cherished, and the amazing journey that led you here with fondness.
Be grateful for the time spent here and take the learnings you have had from mentors, peers, family, and friends as positive souvenirs from this chapter in your life!
Must Read: Farewell Messages for Friends
Farewell Messages for Students from Teachers
Saying goodbye to students can be a bittersweet moment – it can be exciting to move onto the next chapter of life, but there's also sadness that comes with knowing you won't see them every day. Show your students how much they're valued and wished well before they leave by using one of these farewell messages.
Wishing you the absolute best in this next stage of your life! Goodbye.
As you move on to this new journey, we want to wish you all the best! You've been an amazing student and we have no doubt you will continue to find success wherever life takes you.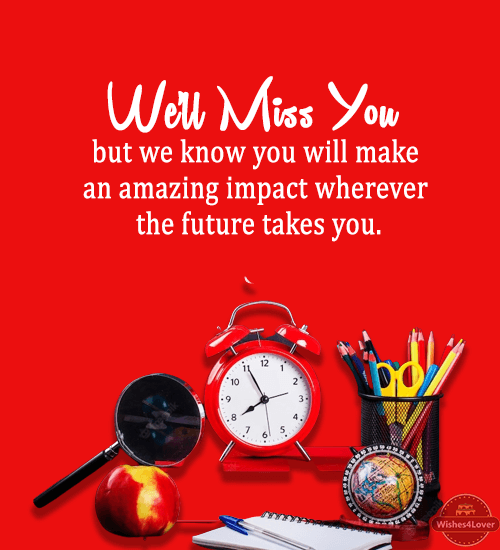 May you never stop growing and learning – keep looking ahead with an adventurous spirit!
We'll miss you – but we know you will make an amazing impact wherever the future takes you.
As you leave us, we want you to know how proud we are of all that you've achieved and the positive impact you had on all our lives.
We wish you a bright future full of great adventures and new opportunities. We hope your memories stay with you forever and that success follows you wherever your venture!
Take what you've learned here, go have fun, and become a better version of yourself! Good luck.
As you go, take the ideas and growth you've experienced here and apply them to the world; go out there, explore, make mistakes, but most importantly – have fun!
Remember that each failure is an opportunity for you to learn something new, stay humble and strive to become a better version of yourself. We hope our teachings helped give you the self-confidence you needed to tackle any challenge thrown your way. Goodbye and best of luck!
Think of us fondly – because we will be thinking of you fondly! Goodbye.
No goodbye would be complete without some reminder of what amazing associates, mentors and relationships we've shared. Take care of yourselves and know that you are always welcome in our doors.
We wish for you the best of luck in your future endeavors, with an assurance that you'll do awesomely wherever life leads you next!
As you take the next big step, remember that we are behind you every step of the way. Good luck!
You've made valuable contributions to our organization and your absence will indeed be felt. Take a moment to give yourself a pat on the back for all your hard work and accomplishments.
Remember that you have supporters in us and don't be afraid to reach out for help if ever needed.
Don't Miss: Farewell Messages for Boss
Goodbye Messages for Students
Saying goodbye to students after a school year can be both an emotional and exciting time. Whether you want to show your appreciation for a graduating class or say farewell to someone who was part of your group, here are some messages & quotes that will help express your sentiment.
Your time as our student has been a bright spot in our day and we will miss seeing your smiling face each morning. Goodbye.
Farewell, but not goodbye. We know you will succeed in whatever lies ahead and that you have much to offer the world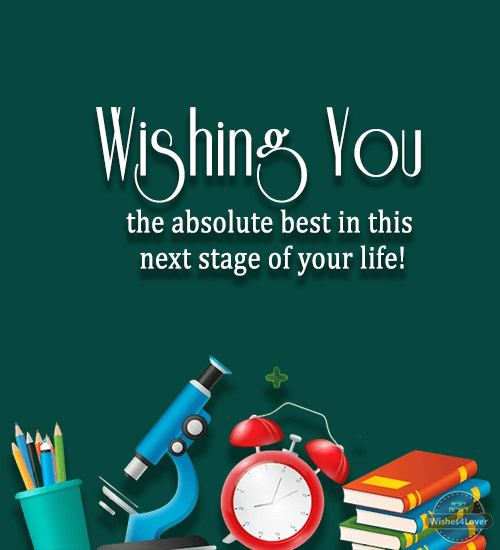 As your students move on to their next chapter, encourage them to believe in their own capabilities. Remind them that they have the power within themselves to achieve any goal they set their mind to, no matter how lofty or challenging it may seem. A goodbye message like this will help give them a source of motivation and strength when facing the unknown.
As you embark on the next chapter of your journey, don't forget that success can come in many forms and every step is part of the process.
Don't be afraid to fail, as it's often a necessary part of succeeding. No matter what happens, keep pushing forward with determination and resilience – don't give up because success is just around the corner!
As you take on the next step of your journey, always remember that you are special and unique in your own way. You have something incredible to offer the world, so don't be afraid to pursue your dreams and explore your passions. Believe in yourself and never forget your worth – it will carry you further than you can imagine!
Don't let anyone stand in the way of what you believe in – be brave and make your own choices. You should never settle for anything less than what will help you achieve your true potential.
As you go forth in life, always strive to stay true to yourself and follow your dreams no matter how big or small they may seem. Believe in yourself, trust your intuition and do what makes you happiest!
"The world needs more unique people like you!"
As you forge your own path in life, remember that the world needs more people like you – brave and confident enough to step out of the norm and make their own way.
You have the courage to succeed in what you set your mind to – don't forget that! So keep shining, no matter what obstacles come your way. Wish you all the best for a new start in life.
Farewell Messages for College and High School Students
Saying goodbye to a college or high school student is never easy. Whether you're sending well wishes to colleagues, friends, or family members, create a memorable goodbye message with our heartfelt farewell messages for students.
As you continue on your path of learning, remember to always embrace the opportunities life provides. Your education will provide you with greater understanding of the world, and take that knowledge with you wherever you go. So goodbye and all the best!
As you start a new chapter in your life, know that luck will always be with you. No matter the path you take or where it leads.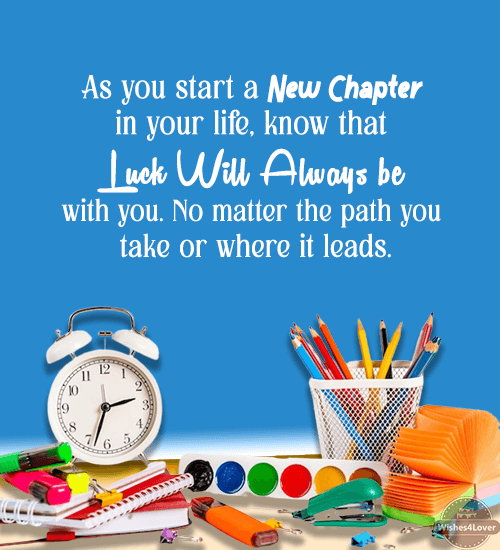 May the good luck in your heart always guide and protect you. Here's to a future of success and growth!
Sending you off with the best of luck in all your future endeavors! Adventure forward fearlessly, as life's greatest experiences come through taking risks.
May you have many exciting and joyous moments as you chart your own unique journey. Enjoy the road ahead!
Thank you for being such a great part of our class/team/group/etc. Goodbye.
We will all collectively miss you dearly! Your presence was such an important part of our journey together, and your kind heart, strong spirit, and warm smiles had helped so many of us get through some tough times.
Thank you for being such a great contributor to the group – we will always remember what you have done for us. All the best on your future endeavors!
We are so proud of the progress you have made and we believe that you will keep working hard and make us proud wherever your path takes you.
We want to send you off with the best wishes for the future and remind you that no matter where life takes you, never forget what an amazing person you are! Thank you for all the wonderful memories, from us all!
Farewell Messages to Send Off Students With Love
Saying goodbye to students is always bittersweet. As they move on to the next chapter in their life, it's important that we recognize all of their hard work and accomplishments and wish them well on their journey. Here are inspirational farewell messages to send off to your students!
As you move on from this chapter in your life, we want to congratulate you for all of the wonderful accomplishments you have achieved! It has been a pleasure watching you grow and blossom into the amazing individual we know today.
We could not be more proud and wish you all of the very best on your future journeys. From the bottom of our hearts, thank you for making us part of your story.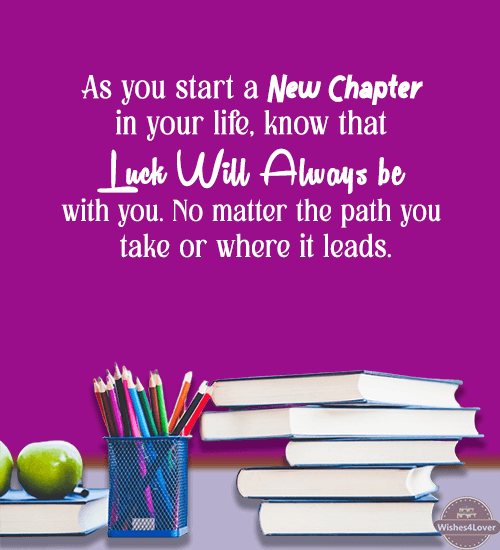 It's been an absolute pleasure having you as part of this school community. all the best and goodbye.
We have enjoyed watching you grow throughout your time here. As you take the next steps in your life, please remember that all of us here at [school name] will be cheering you on every step of the way.
May every door you open lead to opportunities and possibilities. All the best with everything!
You've made a great impression on everyone here and have accomplished so much during your time with us! Go out and do amazing things!
Congratulations on your amazing achievements! From the moment you entered our doors until now, we have been continually impressed with the dedication and hard work that you put into each and every task.
Our hearts are filled with joy for the wonderful person you have become. Don't let anything stop you from reaching all your wildest dreams. Now we can't wait to see what you accomplish as an officer.
Dear students, today is your last day at school. We are very sad but we are also happy that you are learning a lot from this school. Best wishes for the life ahead.
It was an honor to watch you grow – goodbye and good luck, we can hardly wait to hear about what amazing things you get up to next!
Today we say goodbye to you but we can't wait for the time when you will carry the flags of your achievements in your future life.
May all of your dreams come true – we're proud of everything that you've achieved so far and wish you even more success in years to come!
We wish you all the best in your future endeavors and know that you will succeed in anything that you set your mind to!
Our doors are always open for when you come back for a visit or just a chat; we'd love to hear about the incredible things that we're sure you will accomplish. Until then, take good care of yourself and remember that we'll miss you. Goodbye, good luck and may all of your dreams come true!