Anniversary Wishes for Parents: No doubt parents are everything in our life. It is always a good feeling to see parents and loves them with the involvement of our actions and prayers. If that day is coming again when your parents got married, then you should plan very carefully for that special day. Have some important wedding anniversary wishes in your mind to wish them and increase their happiness. No need to struggle, just look below for beautiful and exciting wishing messages.
Anniversary Wishes for Parents
I cannot find anyone else who can care for me just like you. My parents, you are the most notable personality for me in my world. Happy anniversary wishes!
I love you both after my God. Because God gave me the attachment of you two and you both taught me about the realities of life.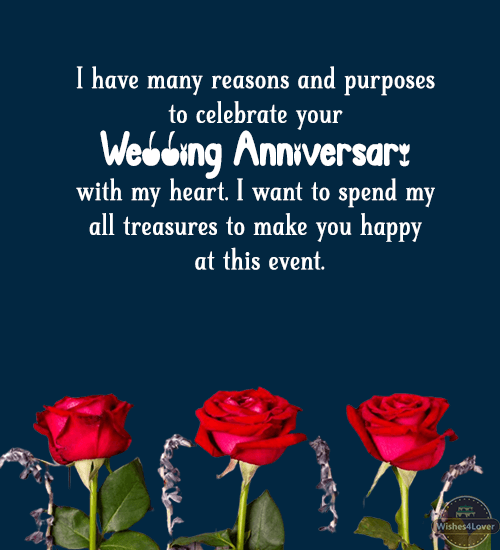 Parents are always right whether the child agrees or not. I am happy at the top of my satisfaction just because of your best advice.
Happy anniversary to my honorable dad and mom. You both are amazing when I see you as a perfect couple. My dearest wishes are always for you!
My dad, you are always a source of happiness for my mother. I appreciate it every time and everywhere. Please celebrate your wedding anniversary.
Although today is your anniversary but I think every day is a day of your new connection and relation between you two. Be happy forever and enjoy life together!
My parents, you are the reason for my birth. I am grateful to you to give me this beautiful world to enjoy and learn.
Really I don't know what happened to me if you were not my father and mother. I am lucky to have you as my guardian.
Let's come and celebrate this memorable day which comes exactly after one year. But due to this day, you are relaxing and living together all the time.
My pretty parents your face is the most attractive face for any child. I want to get your attention from my childhood to my graveyard. Happy anniversary!
I have many reasons and purposes to celebrate your wedding anniversary with my heart. I want to spend my all treasures to make you happy at this event.
My parents, you don't think what you did for me. You are undoubtedly an affectionate gift by my God. Thanks a lot for taking my care for a long duration.
You told me the real face of the world and helped me to recognize the customs of this universe. You gave me the strength to live better. Have endless joy throughout your relation!
Must Read: Happy Wedding Anniversary Wishes for Wife
Anniversary Wishes for Mom and Dad
My humble kindness is looking towards you. I want to pay you for everything which you saw for me. But I know I cannot pay you for bearing the discomfort of a single night because of me.
You are an example that how people live for others. Also, how people devote their life for the rest and peace of others. My parents, I will salute you till my last breath in this world.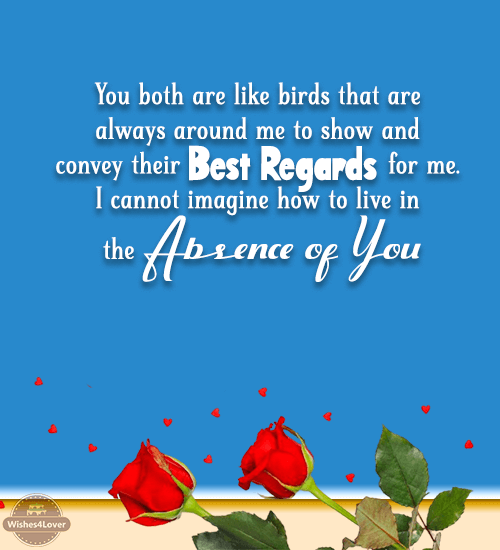 I appreciate and love your relation. You both are a solid wall of huge expectations in my life. I wish you to have and celebrate at least a further fifty anniversaries.
My dad and my mom, you are like shining stars to me. You gave me the light and allowed me to follow you. I am successful just because of your lovely point of view for me.
No one can leave his parents in this world. Our connection is the excellent companionship of this society. Our relation is free from personal interests and immoral benefits. Happy anniversary.
You both are like birds that are always around me to show and convey their best regards for me. I cannot imagine how to live in the absence of you.
My parents, your wedding anniversary give me a chance to think about our family and the deep love in between of us. I love and respect you and wish you a great anniversary of your life.
My parents, you are very pretty and are a life line for me. My father I know you cannot live without my mother and this is also true for my mother. I will love you forever!
You are the best couple among the peoples whom I know. You both have proved your character and behavior is too much attractive and powerful in all aspects of life.
In any event of my life when I see you together and consulting with one another, I feel gratified to have you as my parents. I can surely tell the whole world that you are my precious parents.
Too many congratulations to my dearest father and mother. You are the cause of my happy life. My life is nothing without you. I really wish you both at your anniversary.
Whenever I try to find the real purpose of my life, I see towards you. My parents are my purpose and their care and love is my goal. Happy anniversary.
Thanks a lot to give me a real life and give me everything which I was not able to get alone. I really appreciate your patience and love for me. Happy sweet anniversary.
My parents, your passion and support are more generous than the president and more robust than concrete. I would not wish to lose you at any stage of my life.
My parents, I want to wish you both a happy successful life. I know you both are very successful but the journey of success should never stop. Accept my anniversary wish which is only for you
Must Read: Anniversary Wishes for Couple
Anniversary Wishes for Parents from Daughter
Anniversaries are a time to celebrate the love between parents, and these heartfelt anniversary wishes from daughter can help you honor their special bond. Whether your sentiment is funny, romantic, or filled with gratitude, they'll love to receive these meaningful messages as they look back on all that has been shared together.
All seasons of your lives are love seasons. All love seasons signal me to say my gratitude to you. You gave me birth and I will give you easiness and comfort in your life. My parents, Happy anniversary!
It is always interesting to listen to my childhood stories from you, my pretty parents. I am happy to see your long life and I wish you to be with me for the next hundred years.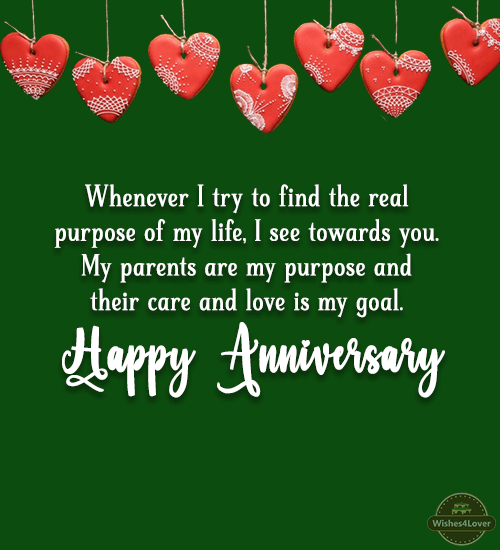 I can easily see the love for me in your eyes. My parents, you should celebrate this anniversary in a splendid way and be doing a lot of expenditure. Happy anniversary.
I know the all pretty moments of your wedding are now history. But believe me, you both are still young and have more love and respect between you. My parents, happy anniversary and enjoy it without shyness.
My parents, every day is an anniversary day for both of you. This is because you always enjoy new things in your relation and take care great of one another. Have a happy living married life.
I am feeling amazing to see that you have spent another year of glory. Perhaps I am only fortunate who has observed so many anniversaries of parents. Happy anniversary.
I think your lives are heaven for one another. You have proved that God made you both for one another. My parents, you are exceptional, extraordinary, and a fantastic couple.
My dad, your age cannot affect your confidence and demand for your partner. This situation is the same for my mother. I only want to see both of you full of joy in your long lives. Happy anniversary!
Wishing a lifetime of joy, support, and love to my wonderful parents on their anniversary.
You both have always been a source of unconditional love, guidance and strength throughout my life. I'm so grateful to have you as parents and I can never express enough how much you mean to me. May your anniversary bring many happy moments of joy, peace and togetherness!
A special message from the heart for amazing parents on this anniversary day. Happy Anniversary!
On this beautiful anniversary, I want to thank you both for the love and kindness that you've always extended to me. Your hard work, dedication, personal and significant sacrifices have allowed me to grow in a way that many people only dream of.
You are my main source of inspiration each and every day. May your anniversary be ever so special, full of laughter and joy as you share yet another year together!
My fondest wishes to two of the kindest, loving, and most supportive parents any child could hope for. Happy Anniversary!
I am so incredibly blessed to have such amazing parents like you in my life. As your daughter, I'd like to wish you all the happiness in the world as you mark another incredible chapter of your love story!
Silver Jubilee 25th Anniversary Wishes for Parents
Wishing my amazing parents a very happy 25th anniversary! Thank you for being such an inspiring couple and for all the love you have shared over the years.
My dear parents, I pray that your relationship remains strong even after twenty-five years of marriage. Many congratulations on your wedding.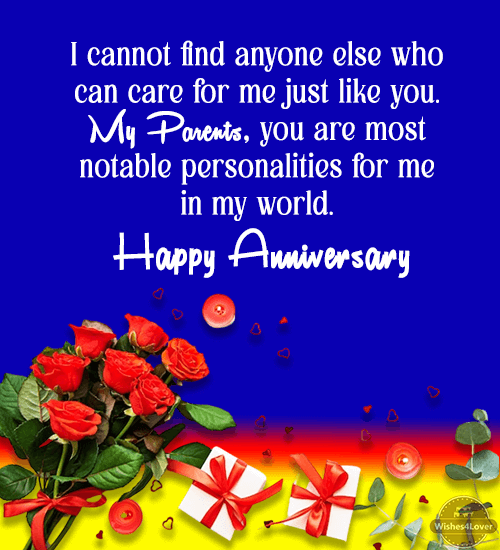 On this special day, I'm sending lots of love and best wishes to my amazing parents. Thank you for all your years of hard work and devotion to our family. Wishing you a wonderful 25th anniversary and many more years of love and happiness!
Today is a special day, as it marks your 25th anniversary! You are an example of the true love and dedication that every family wishes to have.
Wishing you many more anniversaries to come and revisiting all the precious memories you have shared together! Happy anniversary!
Wishing my parents the happiest of anniversaries on their 25th year together! Your love for each other is an inspiration, and I hope your lives together are even more beautiful from here on out. Congratulations!
Congratulations on your 25th anniversary! These past 25 years have been filled with love, laughter and happiness that you've shared together. Here's to many more years of joy and companionship for the two of you!
Wishing my amazing mummy and papa an incredibly happy 25th anniversary! You two have always been an incredible example of true love and marriage for me, so I'm sending nothing but best wishes your way on this special day.
Celebrating 25 years of togetherness and unconditional love, thank you Mum and Dad for being incredible role models in my life.
Wishing you lots of joy, laughter and unforgettable memories in years to come. Happy Anniversary!
Congratulations to such wonderful parents on their 25 year wedding anniversary! Wishing you many more years together, living a beautiful love story that will only continue to get better over the years. Happy anniversary!
Congratulations to my amazing and loving parents on your 25th wedding anniversary! You have shown us all what true love and commitment looks like, and I am so happy that you can celebrate another year of love together.
Celebrating twenty-five years of pure love, patience, and understanding is no small feat!
I wish to give you a grand party on your wedding anniversary as you have completed twenty-five years of marriage with love and faith.
On your special 25th wedding anniversary, we wish for your love and companionship to last forever. May your bond become even stronger with each passing year, and may you always stay in love with each other! Our warmest wishes to you as you celebrate another beautiful milestone of marriage.
Funny Anniversary Quotes for Parents
Happy Anniversary to my wonderful and loving parents! All these years you have been an inspiring example of a strong and devoted couple –
May your love continue to grow and last for many more years. Wishing you all the best on this special occasion of happiness.
Today marks a special day for my parents, and I want to take the time to wish them many years of joy and love. Congratulations on another year spent together full of laughter and love!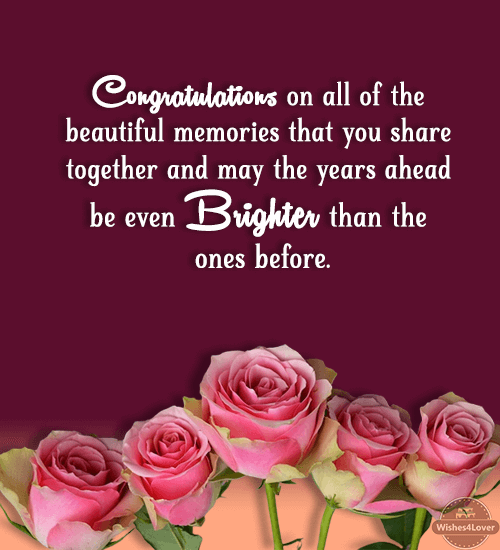 My parents have been together for so long, and I've seen them improve upon each other and become stronger as a couple with every passing year. To the best parents ever, wishing you many more years of love and joy! Happy anniversary!
On your anniversary, I want to wish you two all the best and send my love! You have been married for so many years and it's truly an amazing achievement.
Congratulations on all of the beautiful memories that you share together and may the years ahead be even brighter than the ones before.
There's nothing quite like the love between a parent and a child. On this special day, may your experience with each other be one of joy, laughter, and Love. Wishing you both a happy anniversary!
On this special day, I want to wish my wonderful parents the most heartfelt anniversary wishes. May the bond of love between them remain as strong as ever and never be broken by any force, just like an earthquake, tornado, tsunami or volcano cannot shatter their love. Happy anniversary!
You are a perfectly married couple who has spent a lot of years of mutual devotion and enjoy. I salute your mental abilities and power for facing the conditions.
Love was the base foundation of your married life. I am feeling pleased to see your deep love still empowering you to live a long desire full of romance life.