Happy Marriage Anniversary Sms to Brother: Brothers play the role of backbone in your life. They do each and every possible help for you to make you strong and happy. Brothers are more than your friends, you share awesome childhood memories with each other and grow together. Wish your brothers whenever there is something special going on.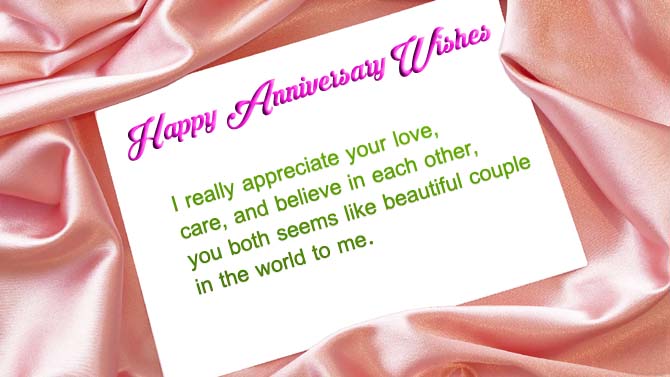 Happy Marriage Anniversary Sms to Brother
Here some of the beautiful and amazing Messages which will helpful for you to express your right feelings and love for them.
When two great personalities become one soul than a true couple born as the result. You are the best example of it because when you are together you are perfect. Happy anniversary to brother.
---
Wishing you a very happy anniversary, the love and trust you share with each other and the support which you give to each other at the end you become the best couple of the world. Happy anniversary.
---
Today is the special day in your life, where love and affection meet their best to form a great couple in form of you. Wishing you ever ending happiness and love, happy anniversary.
---
Both of you enjoy the love and happiness in coming years also, you both are good and deserve each other. Wishing you a very happy life in future and happy anniversary.
---
As you know highs and lows are the part of life, so accept it as the part of life and always together no matter how tough is it to be united. Happy anniversary.
---
Wishing you a very happy anniversary, every moment from the gone years reminds me the reason, why I am the luckiest on the planet because I got the brother like you. you continue your success in future and become the star of a country.
---
Dear brother, another year is waiting for your happiness and joy. In this year create beautiful memories and capture them in the beauty of your soul. Happy anniversary.
---
Your every picture tells the victory of your love with each other, keep your love save for each other and supports each other in every possible condition. Happy anniversary.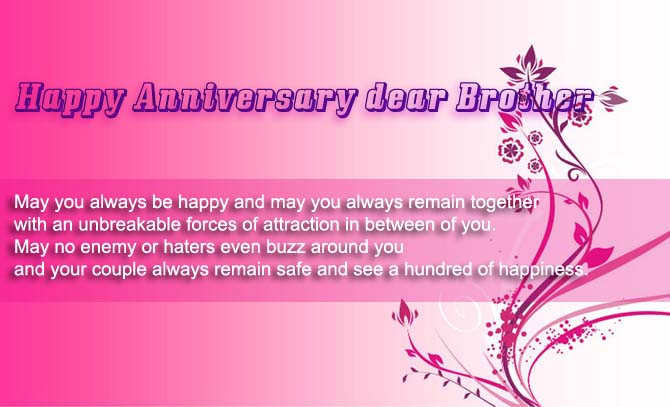 This is the special day in your life, today two beautiful souls come together, I wish happiness stay close to you in your whole life and enjoy the world with your beautiful wife.
---
Wishing a very happy anniversary to a man whom I love the most and he is not from outside, he is my own brother. Thanks for all special memories which we made together.
---
Thanks for supporting me, whenever I need you, you are always there to supports me. Happy anniversary.
---
May you blessed with infinite blessings and love with your wife. Make your every day with joy and cheers. You are a great inspiration and happy anniversary.
---
There another year is waiting for you to create great and awesome memories in love and trust. Celebrate this day as it deserves and wishing you a very happy anniversary.
---
I just want to thanks for all those great moments and memories of childhood which we make together. May you continue your beautiful memories and moments in marriage life.Happy anniversary.
---
You both are really good and great, you truly deserve each other, your nature and attitude are the same. You may happy in future. Happy anniversary.
---
Today is your celebrate your day with full energy and as it deserves to celebrate. Today two innocent come together and shape into a beautiful couple. Happy anniversary to my amazing brother.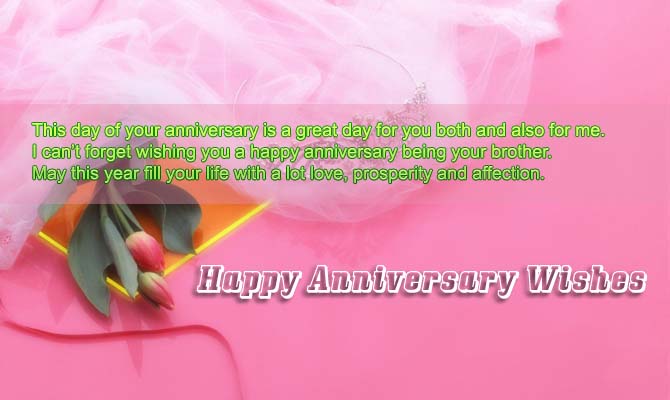 I feel lucky as I am your brother, you did a lot for me as a brother or as a friend. Wishing you a very happy anniversary.
---
Thanks for all sacrifices and care you did for me, whenever it is needed, you never disappointed me or anyone. Your life may be brighter and brighter with the addition of every single second.
---
Today got to send a beautiful couple from heaven to earth, this couple is not only beautiful but great also. Wishing a wonderful anniversary to brother.
---
You make us pride in the school, colleges, universities and now in practical life also. The way you manages all the relationship is awesome. Happy anniversary.
---
Dear brother you look like the sweetest couple when you are together. May your couple remain happy and beautiful for the whole life.
---
When we really love someone, the love increase with the every passing day. And being together it's a long time for you. May you both spend a lot of time together and see the happiness of life.
---
I always imagine you both in a relationship that can never be tolerated. May you both remain connected together like two flowers in a garden.
---
A combination of two loving people always leads to a couple which never let each other be alone and support each other in every time of difficulty and loneliness.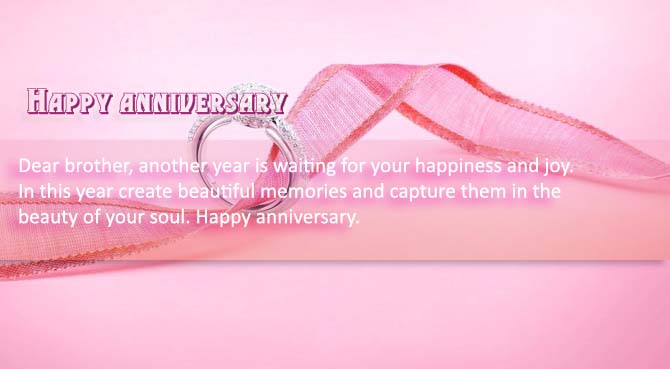 You both came together and started a world together and then you placed each brick of your home to its position and created a paradise full of love.
---
May you both enjoy each part of achievement together and suffer with a lot of confidence and believe in each other.
---
This is another year for you both to be together, this day remembers you the moment when you got to be together. And may this day ever bring you a lot of happiness and love for you.
---
You are a great brother for me, I always inspired by you that how you managed to keep the relation together. You always cared about every relation and your life partner is also like you and you both deserve to be with each other.
---
I am not perfect in my relation handling so whenever I have to take some decision I only consider you. Being my brother you always showed me that how to manage relations.
---
There came another moment to share your love, a moment to tell others that you are the example of love, a moment you both met and a moment you both promised to be together for all the upcoming years.
---
I really appreciate your love, care, and belief in each other, you both seem like a beautiful couple in the world to me.
---
This day is a great day in your life. You are a couple which is formed by the best of great affection and love. May you live like that for all the upcoming years and may you both see every happiness of life.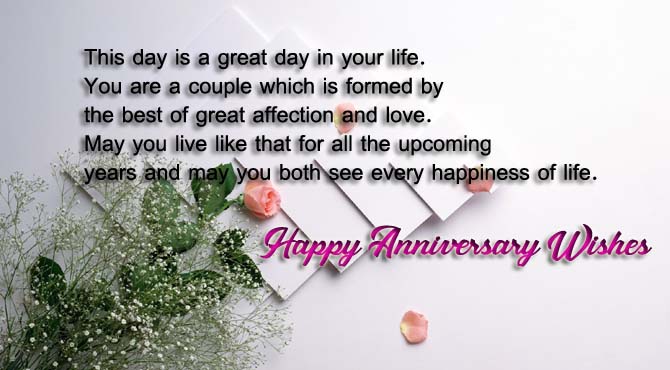 Every year when your anniversary comes I realize that how great brother I have with me. You are always an ideal for me and I am always inspired by you.
---
Another moment of great importance has come for you. You need to create more memories captured in your canvas and celebrate these moments in a way that these were meant to be yours. So one day you can remember these memories which will glow your faces and make you happy.
---
May you always be happy and may you always remain together with an unbreakable force of attraction in between of you. May no enemy or haters even buzz around you and your couple always remain safe and see a hundred of happiness.
---
This day of your anniversary is a great day for you both and also for me. I can't forget wishing you a happy anniversary being your brother. May this year fill your life with a lot of love, prosperity and affection.
---
Every year you both spend with each other is proof of your love and an endless relation of your souls which can never be broken. No one can keep you both apart from each other because you both have a power of lover which is more than any power in the world.
---
May each year of your anniversary bring more happiness and success in your relation, may God keep blessing you both with his unlimited blessings.
Happy Anniversary Wishes for Brother
No one can deny the importance of brother in one's life. Brother is someone who spends enough time of his life with you and provides you everything at the time of need. That's why you should take care of him and his life affairs. If your brother has married and his anniversary is coming near, you need to get ready to wish him. It will be everything to secure the bound of love between you two. We are here if you are confused to think and write anniversary wish for your brother. Have a look at following anniversary wishes which can give your brother real happiness.
My dear brother, I am happy to know that you are delighted with your married life. I am glad to see your satisfied and successful married life. Accept my anniversary wishes which are only for you.
---
My brother, have happy rest of your life with your wife. You and your wife are a very beautiful couple, and my well wishes are always in favor of you. Many congratulations on your full of pleasure anniversary.
---
Having a brother like you was a gift from God and now finding you happy in your married life is another gift of God. I can never thank God because of His kindness and gifts. Happy anniversary to my loveliest brother.
---