Happy marriage anniversary SMS to sister: Sister is the relation that is rally full of love. A sister never leaves her brother alone. She helps him whenever he need and whenever he wanted it. So such a sister really deserve a lot of love in return. Sisters always want to see us happy. Let's make her some wishes and show her that you really care about her.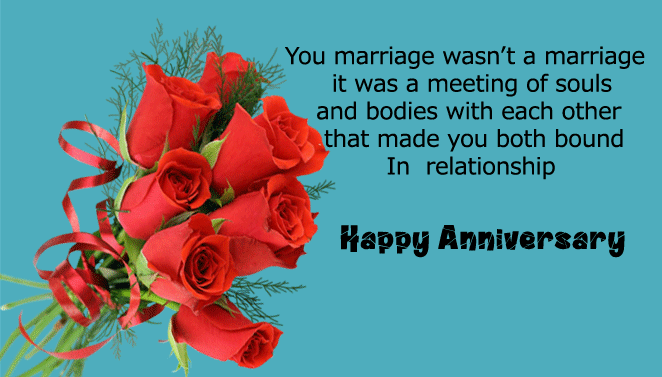 Happy marriage anniversary SMS to sister
The day you both married I was really happy and I wish that you both remain happy for the whole of life.
---
On this day of great importance and joy, I want you both to be together and with each other for all the upcoming years.
---
Your marriage wasn't a marriage. It was a meeting of souls and bodies with each other that made you both bound in a relationship.
---
You both are really dear to me as my own children. I can only pray for your long life and long relation on this day of your anniversary.
---
Anniversary is a great day for any couple and if my sister is happy on this day, it means she is having a good time with her soul mate.
---
You both should take care of each other and understand the problems of each other to have a good life and today you both should promise to each other about a happy life.
---
This was the day when you both promised each other about the upcoming life and promised to provide each other with love and support.
---
Whenever I see you both happy, it really satisfies my soul and me that I made a good decision by making your marriage.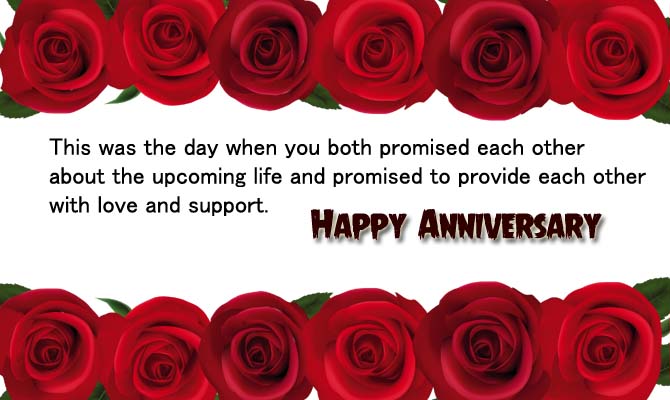 Happy Wedding Anniversary Wishes for Sister
Your successful marriage is not only important for you. It realizes me that you respected and admitted my decision about your life.
---
Each passing year is a milestone that you both are progressing towards your destiny and you will be happy in whole life.
---
Your happiness and easy life is the only thing I want in this life because you both are the dearest personalities to me.
---
In my each prayer and each worship, I always pray for your happiness and successful life. May you never see a single problem.
---
You have many duties in life. You have to face many problems in life, but I am happy that you will do it boldly because he is with you.
---
Your marriage was a sensitive decision of your life. I was worried that what will happen after your marriage but I am satisfied to see you both happy now.
---
It was my duty to take care of you after my parents, but then after your marriage, this duty went to your husband, I am happy that he is good.
---
I always advise you to be happy and share any problem of your life with your husband and me because I know that he is similarly sincere to you as I am.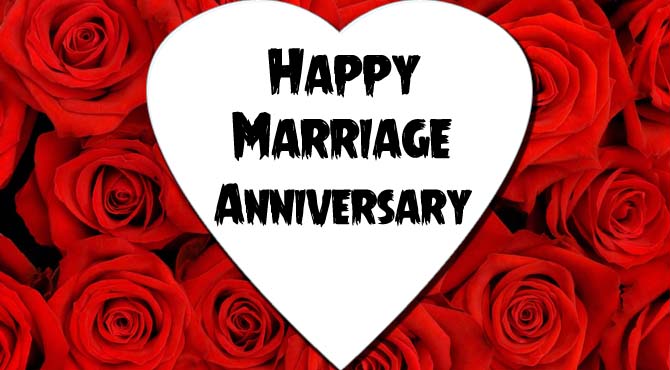 Happy Marriage Anniversary Messages for Sister
Your marriage day was a day of happiness and I can remember how happy I was in your marriage.
---
Whenever you see yourself worried, please remember the moments you both spent together and I am sure that you will go happy.
---
The relation between you both is proof that you really love each other and you are made for each other. I always want to see you together.
---
I remember the days when you were very little and you used to share your every problem with me. I don't remember when you grew up and left me.
---
There may be a sister of every brother in the world, but I guarantee there couldn't be any sister like you. May you always remain happy in life?
---
This day is returned with its memories and moments, so it's a time for you both to enjoy these moments and make yourself happy.
---
You both should enjoy today's anniversary and capture the moments in the canvas of your life so that you can remember these moments and be happy.
---
May you both remain together for the whole of life and may you never see a single problem in your life. This is the only pray of my life.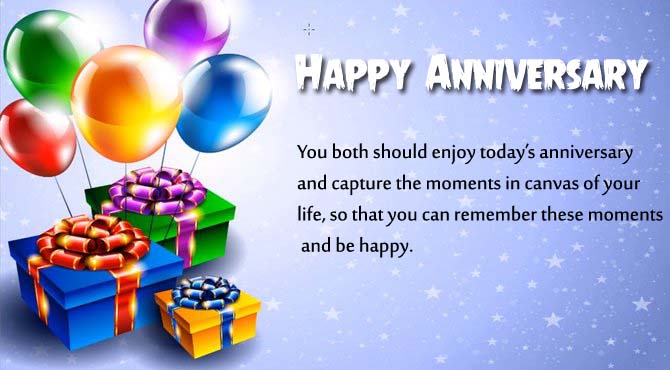 Happy Wedding Anniversary Quotes for Sister
I made some decisions in my life, even the hard one but the most difficult and good decision was always related to you.
---
You are like my Barbie doll and I can't believe that it's your anniversary today. You grew up so soon and you left me.
---
Your anniversary is the moment for you both to enjoy and make memories for your life. You should remember your promises and fresh up your memories.
---
This day is a day when your families got connected to each other with your relation and it made the whole universe shine like the diamond.
---
Each passing year and each passing day are a sign that your relation is going older and stronger and you both are love each other more than ever.
---
I pray to God that you both be happy and with each other for the whole life. And you never see a single problem with life.
---
With my every pray there is a list and you are always on the top of that list. I always wished for your love and relationship.
---
May you both be the part of this world which can never be tolerated and the world will admit you like a loving example.
---