Happy Birthday Wishes for Sister: Family relations are very important in our lives. Without relations, we have nothing to do in our life. We should take care all of our relations to increase mutual understandings and interests. Among all other relations, the relation between brother and sister is very powerful. It is also different from others because it includes so many promises and sincere care without any greed. If birthday of your sister is coming, then you should wish her best all best regards. Have a look and spend a little time to find out great wishing messages for your sister.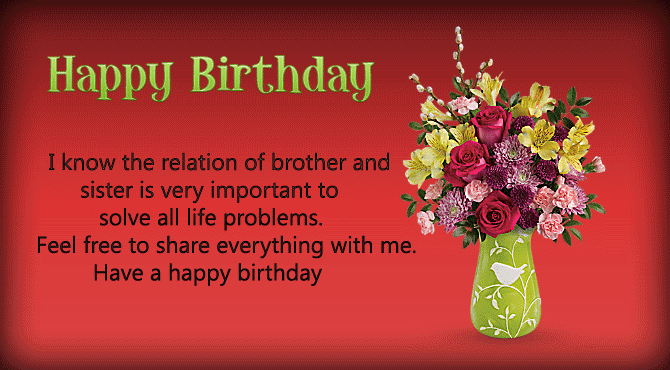 Happy Birthday Wishes for Sister
My dear sister, I have many things to describe which I learned from you. Happy birthday from my heart.
---
I know the relation of brother and sister is very important to solve all life problems. Feel free to share everything with me. Have a happy birthday.
---
Every time when I feel sad, I find you to be happy. My sister, you are much more than a sister. Your presence is like pure gold for me.
---
Sister is like a bright route for any brother. I am feeling lucky to have a caring sister with me when needed. Happy birthday.
---
My sister, we are growing up together. I like your help in all my tasks. You are always ready to help me out.
---
You always give me courage and dare to find out the new and better ways to spend my life. Seriously, today, I have many things which are just because of you. Happy birthday my sister!
---
No doubt, our relation is the strongest relation as compared to any other brother and sister. I wish to be extra stronger in our relation. Happy birthday.
---
You are not just an average sister. You are also my friend and my guardian. Your care is vital for me. I want to spend my whole life consulting with you.
Don't Miss: Happy birthday wishes for sister in law
Happy Birthday Wishes for Sister from Brother
I hope your birthday is a reason of hundreds of happiness for you and our other family members. We have many such occasions to celebrate just because of you.
---
My lovely sister, believe that in your actions and job. You can do your every single task without any loss. Have a bright future and charming upcoming birthdays.
---
It seems that everyone is celebrating your birthday in this world. The joy of every creature of God is at height. Happy birthday to my dearest sister!
---
I am happy because I am your brother. It is always a pleasure to be identified as your brother. Thanks for your corporations all the time.
---
This special day is not just to celebrate. It has many other things to do like to show you my deep love and my real respect for you. Happy birthday.
---
Without you, our family is incomplete. You have an extraordinary place in our family. No one can deny the importance f you.
---
May God give you all of His gifts to you on your birthday. May God increase your age limit with full of happiness and enjoyment.
---
It is amazing to recall our bright past which we spent together. Your birthday is a start towards a near year of your age. I am crazy to start and end it with you.
---