Happy Wedding Anniversary Wishes for wife: The only strong relation in this universe is of husband and wife. They support each other no matter how tough and hard to survive but they always stand together and face all difficulties for making strong. As in action, you show your love to your wife it is as needed in words also. So express your love to your wife and thanks to her for all past and future relaxation she gives to you.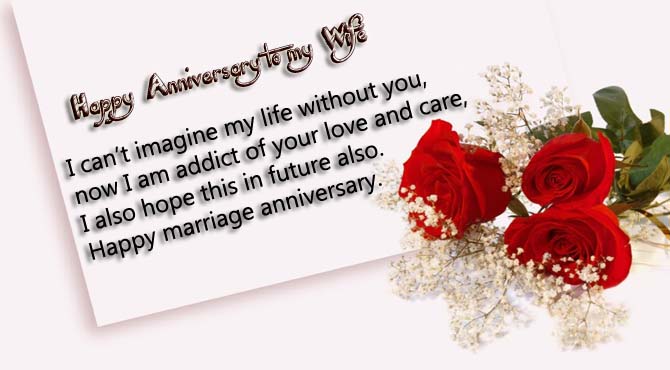 Happy Wedding Anniversary Wishes for Wife
Here are some of the romantic and wonderful wishes for the marriage anniversary.
You made my entire life easy and simple; I got all happiness just because of you. Happy marriage anniversary to a lovely wife who makes me happy and relaxes my mind with his attitude and love.
My heart remarks to you, you are not only beautiful by your face you are also beautiful by heart and soul. Happy marriage anniversary to my cute wife.
It's not a fact we agree on each matter or not, the matter is we sacrifice for each other in every situation. Happy marriage anniversary to a beautiful woman of the world.
Once again you prove yourself as a great wife with your strong trust and patience. Happy marriage anniversary to my wonderful and beautiful wife.
A happy married life is the goal of everyone and I achieve this goal successfully in all last years. Happy marriage anniversary to my wife who brings more happiness to my life.
You are my princess, queen, and my world, the way you support me throughout my life is just speechless. Happy marriage anniversary to my queen.
Our mutual standing becomes extraordinary in the first year of marriage. Happy marriage anniversary to the great and respected wife.
You are the life I always struggled for, you are the smile I wanted to see, you are the cure an incurable patient needs, you are the rain a person dying with thrust needs.
Your face is very beautiful and your personality is very handsome. I love you and will love you forever with more and more passion.
My all years of your relationship are great and fabulous. Happy marriage anniversary to the wonderful wife.
Don't Miss: Anniversary Wishes for Couple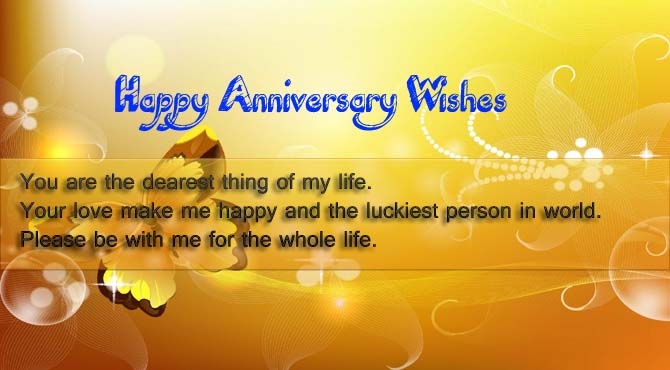 Marriage Anniversary Messages for Wife
I was a little boy when we met, you made me man. I was an idiot when we met, you provided me with wisdom, I was a passenger with no destination, and you provided me with an intention and purpose of life.
My faith in you became stronger and harder with every passing year, it's just because of your truthiness, patience, and trust on me. Happy marriage anniversary.
Like every year of our marriage goes my love and faith in you also getting more and more. Happy marriage anniversary.
I have never even dreamed of this fabulous life ever before which I'm spending with you dear, it's a magnificent and happy marriage anniversary.
Work hard and be humble to everyone, which I learn from you in your relationship. Happy marriage anniversary to my lovely wife.
Whenever I am tensed or feeling down and wanting someone to boost, I found you right behind me to give me confidence, you are my true love and pride. Happy marriage anniversary.
Thanks for all the cheers and love for this amazing past year. Happy marriage anniversary to my cute queen.
I can't imagine my life without you, now I am an addict of your love and care, I also hope this in future also. Happy marriage anniversary.
Must Read: 5th Anniversary Wishes for Wife
You are the most inspiring person for me, I really appreciate the way you lead all the relationship is speechless in all past years. Happy marriage anniversary.
My heart grinding just due to your presence, I am a big fan of you my queen thanks for all past successful years. Happy marriage anniversary.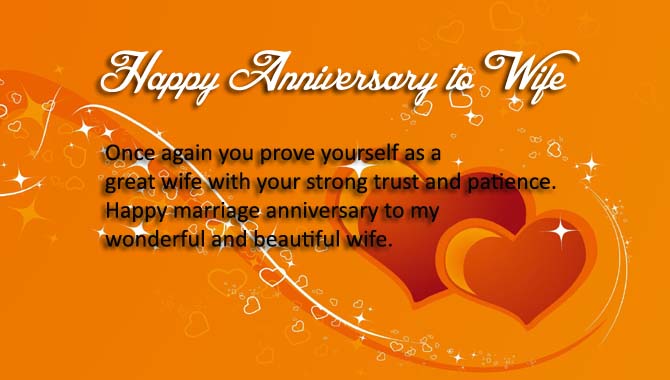 Romantic Marriage Anniversary for Wife
You are lucky for me, there comes a lot of success and fame for me. Happy marriage anniversary to my queen.
You are the dearest thing in my life. Your love makes me happy and the luckiest person in the world. Please be with me for your whole life.
My wife is the most beautiful lady in this world. I want to say great thanks to you to be with me as my wife. Happy anniversary.
You make my journey to success more quickly, the credit goes to you. Happy marriage anniversary.
I sometimes think about what was going to happen to me if I was not married to you. Definitely, I was going to die or I was going to face a life full of worries and sorrows but I am thankful to God that we both met.
I made big achievements in my life, also enjoy a lot but the most precious thing I ever got in my life was achieving you. I am really proud to get you as my wife.
Don't Miss: Happy Anniversary Wishes for Brother
Many people have relations but the relations are only about names and formalities. I am really thankful that our relationship is an example of love for others. I always owe you respect.
A beautiful red rose at the end of all these beautiful marriage years. Happy marriage anniversary to my beloved wife.
My beautiful wife, I want you to be with me in every success of my life. I always imagine you as my protector, well wishes, and advisor. Happy anniversary.
If it was possible for me I was sure going to show you my heart and you will realize that I like you as a dying person likes life. You are always a reason for my existence.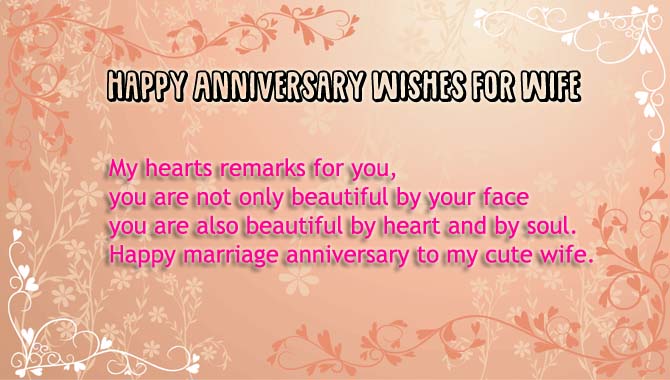 1st Anniversary Wishes for Wife from Husband
This day has great importance near me because that was the day when we both got engaged in relation. I can forget my name but I can never forget this day, the day you came I my life and my life turned into a paradise.
The day of our endless love is again with us. I am sure we will see this day again with an increment in our family. Happy 1st anniversary.
I am totally mad about you because I cannot live without your absence. You are more precious than oxygen and food for me.
Let's make this world the proof of our love, let's show this world how much we love each other let's just fly against the winds together and tell the whole world about this day, the day we met.
Today is a special day in the history of this world as this day allowed you to be mine forever. My darling I love you and will always protect you.
I am grateful for what you did for me, for all the sweet smiles you gave me, for all the kisses of my morning, for all the breakfast and dinners, for all the moments we spent together.
I never thought that I deserve something but getting you was the greatest blessing for me and never deserved of any relation like this.
Must Read: Happy Anniversary to Sister & Brother in Law
Congratulations on our anniversary. We made our wedding possible and now we will give new heights and dignity to our mutual love. Happy anniversary.
You flow In my blood, you beat with my heart, you come to my breathes whenever I am tired, you with me whenever I am alone, you will be in my soul when I will die.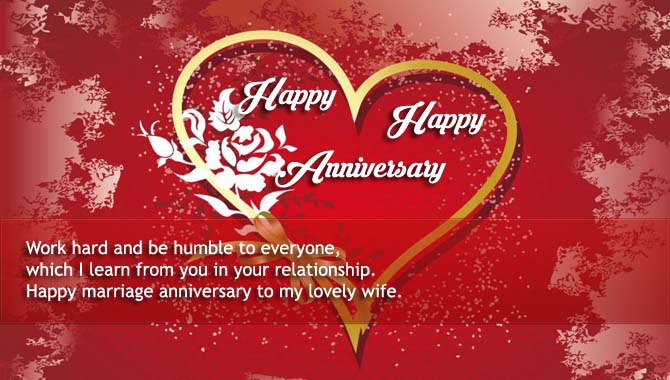 2nd Anniversary Messages for Lovely Wife
I saw God. Do you know how? I can see God every time when I see you. My God is great because He provided me with you. You seem to be his blessing on me. I can never think of a single moment without you.
My relation to you is not a relation of a husband. My relation to you is a relationship with unlimited love, a relation of a soul, a relation that can never be tolerated, and a relation that is strong enough to fight with the whole world.
Sometimes I see that we have just met, our love and attraction are still fresh. I can't imagine how time is passing with you. So we have spent another year of happiness together. May we always be happy and remain with each other.
You came to me and the time changed the autumn winds for me. Your coming was the greatest reward for my life. I can never see you without me. Can't even think of going away from you.
I am so glad to get my anniversary but I am happier because you are the cause of this anniversary. Really love you from my heart and will support you until my last breath.
I wish to kiss you on our anniversary. This day reminds us those all promises which we made during our wedding ceremony. Accept my well wishes for your future life.
I agree that there is no gift of God more precious than your presence in my life. My wife, you are my role model and reason of success. Happy anniversary.
My wife, having you is just one side of the picture. Actually, I want to help you and care for you. I want to provide you every essential thing of this life.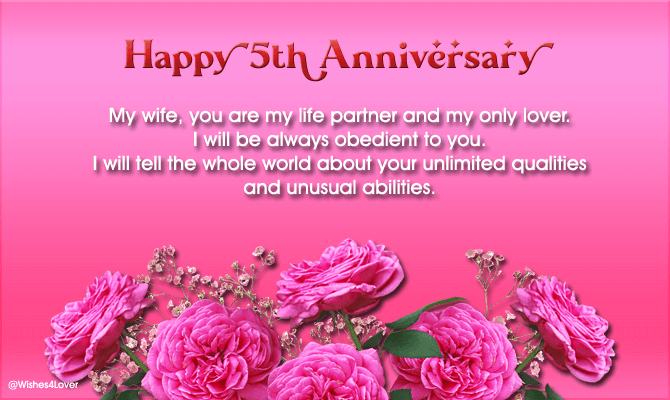 5th Marriage Anniversary Wishes to my Wife
I was just a man but you made me the luckiest man, I was only a struggling man, but you made me successful. I was alone but you gave me a happy relationship. Thanks a lot for everything you provided me.
My heart is beating for you, my lips are singing for you, my eyes are shining for you, my hands are waving for you and my soul is waiting to hug you, My wife, a very happy anniversary!
My wife, you are my life partner and my only lover. I will be always obedient to you. I will tell the whole world about your unlimited qualities and unusual abilities.
My wife, our lives are like a beautiful book in which every page has its own interesting story. I want to design and reveal the remaining pages of this book with the ink of pure love. Happy anniversary!
The Sun has shown its rays at earth on this historical day. My life revolves around this day. Today, I got the right to say you as my wife. My loving wife, thank you for everything!
Whenever I close my eyes my heart starts pounding fast and fast. You know it demands me to open my eyes and see your face continuously.
Happy wedding anniversary and celebrate it with me in one room. We will communicate about our love and our beautiful future.
My wife, I am mad about you because your personality has many significant impacts on my heart and brain. My darling I am feeling pleasant to show you my love and passion.
The time is passing rapidly and we are getting mature with every next anniversary. I am lucky because you are too much beautiful, attractive, loving, and caring.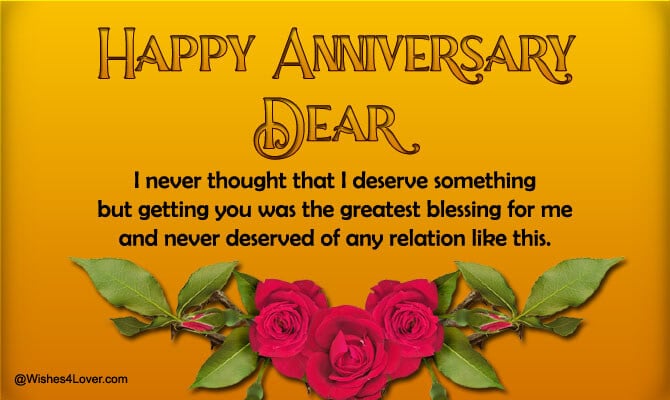 Romantic Marriage Anniversary Quotes for Wife
My wife, you are all treasures of this world for me. I cannot afford to lose you at any stage of my life. You are really proud of my happy living life.
Today I again want to show you my love with precious gifts. You are awarded my diamond heart and my loving life. My wife happy anniversary!
The day when I saw you for the first time is always memorable for me. I have many lovable memories in my heart related to our long partnership.
I have seen many successful life partners in my whole life. My wife, after a complete comparison I can say that our married life is more fruitful and beautiful just because of our love.
This wonderful anniversary is a sweet result of our love and marriage. We should fulfill our responsibilities as a couple and try to sacrifice for one another where possible.
In history, today was an amazing day because before this date we were not a couple. But at our anniversary date, we were engaged and got association as a vital relationship.
Our anniversary allows me to hug you and care for you more than usual days and in extraordinary ways. You are a fantastic wife, and I am your beloved husband.
Everyone knows the love between a wife and her husband. Therefore, I am going to celebrate our anniversary at the social level. My wife, thanks a lot for your support.
I am feeling very happy to complete one more year of our beloved and satisfied married relationship. I am thankful to God for strengthening connection and His kindness.