Farewell Messages for Friends – Goodbye Quotes for Friends: Everyone wants to say the perfect words to the friends while saying them goodbye. Farewell is the event when the friends leave each other after a long time. This time is very emotional and harder for some people. However, sending some wishes to the friends or saying them face to face can reduce the emotions and can build some awesome memories. Farewell messages will also tell your friends about your feelings. So in order to create amazing farewell moments, you can use some wishes. Some of the farewell messages are listed below.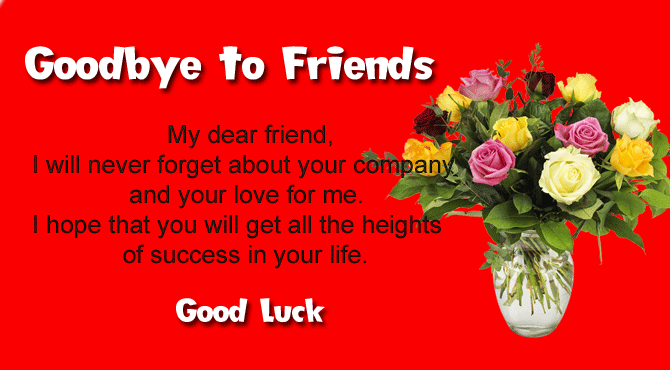 Farewell Messages for Friends
My dear friend, I will never forget about your company and your love for me. I hope that you will get all the heights of success in your life. Good luck!
---
Our friendship is one of the most significant things in my life, and I cannot forget you. I want to keep this friendship forever.
---
My friend, I am sorry if I have every hurt you or your feelings intentionally or unintentionally. Please forgive me and good luck for your life.
---
The one thing I know about our friendship is it is very strong and will always remember you in my heart. Thanks for your love!
---
My friend, I wish you to become a successful person in the life. So work hard and make your name in the life. I am proud of you.
---
Goodbye, dear friend! May you live long with a plenty of happiness and a lot of success in your life. Good luck for your future.
---
I have all the memories in my mind, and I want to keep them forever. Thanks for your time to me, thanks for your love and thanks for an unusual friendship.
---
Today as we are leaving each other, I want to say that I love you very much. I will be missing you every time after this farewell.
Goodbye Quotes for Friends
There is no other more beautiful thing as a strong friendship, and I think I have with you. Never forget me and work hard to be a successful person.
---
Goodbye, my dear friend! I am feeling very sad on this farewell as we are leaving each other and we had a long time together. May our friendship be strong forever as it is right now!
---
I know how much you are sad on this farewell. Although there is some happiness on our faces but we are sad. Don't be a sad friend! Be happy and stay blessed.
---
I want to see you smiling in your whole life but today it is making me cry that you are leaving me. Nothing else is much important for me than you. God bless you, my friend.
---
I am feeling alone thinking about our farewell as you will leave today and we will be alone after a long time. Goodbye, my dear friend!
---
You are like my brother. You are my family. I cannot live without you. Goodbye, friend! God bless you a lot.
---
Although you are away from me but I will keep your memories and moments forever. This will keep reminding me about you.
---
Dear friend! I am wishing you farewell message as we are leaving each other at this occasion. But we will love each other forever. Good luck!
---