Thank You Messages for Birthday Wishes: Saying "thank you" is always appreciated, and even more so when it comes to acknowledging birthday wishes. Whether someone sent you a gift, a card, or just some kind words on your special day, make sure to express your gratitude with one of these thank you messages for all the birthday wishes.
Thank You Messages for Birthday Wishes
I'm so grateful for all the birthday wishes I received from you. Your words filled my heart with warmth and happiness and seeing your message truly made my day even brighter.
I can't thank you enough for reaching out to me on such an important day! Your greetings on my special day meant a lot to me. Thank you and lots of love!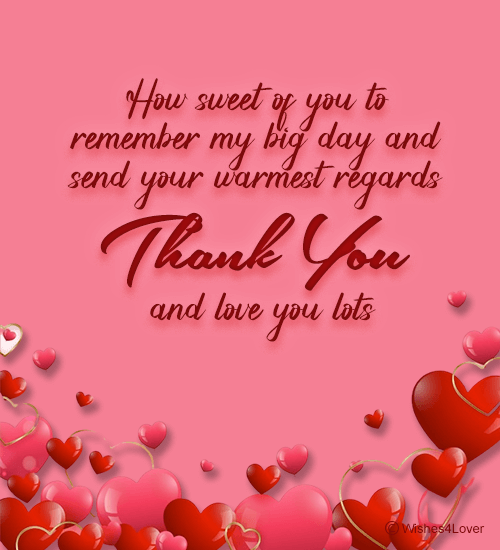 I just wanted to say a big thank you for thinking of me on my birthday. Your kind words, heartfelt wishes, and special messages mean so much to me!
I can't express how grateful I am to have people like you in my life who make every day enjoyable and precious. Thank you for your love.
How sweet of you to remember my big day and send your warmest regards. Thank you and love you lots!
Your presence on my birthday really meant a lot, and your kind words of love only made it even more perfect! Thank you so much for the thoughtful wishes and taking out time to make sure I know I am special.
You truly are one in a million, and I'm glad to count myself among your inner circle. Thank you again for celebrating my birthday with me, it is something I will never forget.
What a beautiful surprise to see all these wonderful birthday wishes from people like you who care about me – it made my day brighter and certainly more cheerful! Thank you so much for thinking of me on this special day of my life!
I am so thankful to all of you who took the time to share your kind and thoughtful words on my special day, whether it was through an email, postcard, text message or in-person! I truly appreciate all the wonderful acts of kindness that were bestowed upon me for my birthday.
From the bottom of my heart – thank you for making my day even brighter and more cheerful with your lovely thoughts!
Everyone needs an amazing friend in their lives to experience life with, and you're that person for me. You have been by my side through it all – the happy moments and the troubles.
From picking me up after a tough loss to offering words of comfort when I was scared, your loyalty, kindness and generosity have no limits and for that I thank you from the bottom of my heart.
No words can express the depth of gratitude I have for you. You've been there for me at times when I really needed a friendly face and a warm hug.
Your compassion, support and humor have kept me strong through my tough times. Without you, life would be an incredibly difficult journey.
I don't know how I can begin to express my appreciation for what you did for me; thank you isn't nearly enough but it will have to do!
Must Read: Birthday Wishes for Daughter in Law
Emotional Thank You Messages for Birthday Wishes
Showing gratitude is a simple yet powerful way to make someone's day brighter. An emotional thank you message can go a long way and make a lasting impression. Express your appreciation for the kind gestures of your friends and family with these thoughtful and sincere thank you messages.
From the bottom of my heart, I want you to know that the kindness and generosity you have extended to me truly mean the world to me.
Your selfless act of giving has kept me going and enabled me to reach my goals. Without your help. Thank you for being an unwavering source of support and encouragement when I needed it most. I am forever grateful for your friendship!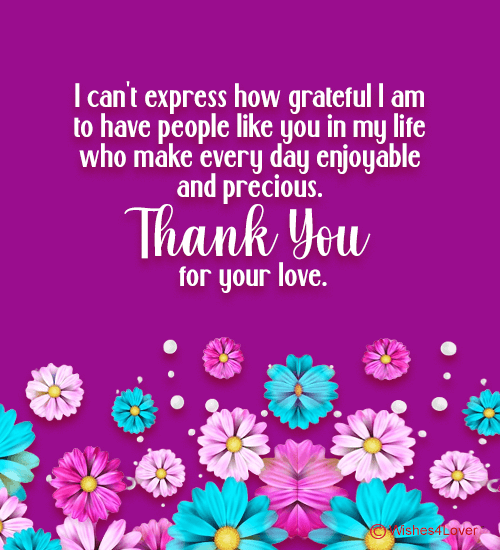 I am forever indebted to your kindness, support and friendship. Nothing I say could ever express the depth of my gratitude, so once again thank you from the bottom of my heart!
You have been there for me in my darkest hours and for that I will always be grateful. With your help, I have not only grown as a person but overcome so many challenges in life.
I am overwhelmed by the love and generosity you have shown during our relationship. Your actions shall never be forgotten and I will always treasure each moment we spent together!
Thank you for all the wonderful memories we have shared and for always being there for me when I needed someone.
Thank you for attending my birthday party. Your presence meant so much to me and it made the celebration even more special.
I am so lucky to have such wonderful people in my life who share in my joy on this day. Thanks again for being there.
Thanks for going above and beyond to make my day so memorable!
Your kindness and thoughtfulness are truly appreciated. You went above and beyond to make my birthday special by making unforgettable memories for me!
I am so grateful for the wonderful surprise you gifted me with. I cannot thank you enough for your generosity, it means a lot to me.
Your thoughtful gift was so sweet – thank you so much!
I want to let you know how much I appreciate your thoughtful gift. It made me feel so special on my birthday and it's one I won't forget!
Please accept my sincere gratitude for your kindness and thoughtfulness. You are a wonderful person and your generous gift will always be remembered. Thank you so much!
You always show such kindness, love, and generosity. A simple thank you isn't enough to express how much your thoughtful gift means to me. Thank you!