Saying goodbye to a retiring colleague is never easy, but you can show your appreciation of their years of service and dedication by sending them inspirational or humorous retirement wishes for colleagues. Find the perfect words to wish your coworker a happy retirement with these heartfelt congratulations wishes.
Best Retirement Wishes for Colleagues
Wishing you a retirement full of joy, peace and happiness. Congratulations!
The journey of your career was filled with challenges, triumphs, and many accomplishments. Wishing you a retirement full of joy and a peaceful transition into the next phase of life.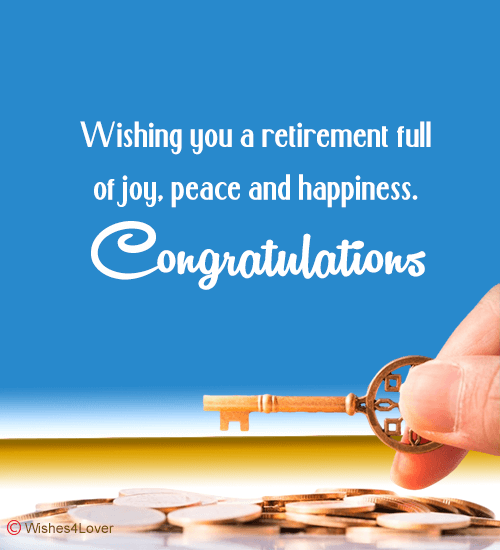 Enjoy this new stage and embark on new adventures ahead! Congratulations my dear colleague and best wishes for future life.
Yes, it's time to bid farewell to the workplace but not to the friendships we created here. Congrats on your retirement!
You may be leaving us, but you will remain in our hearts forever. Thank you for being an invaluable part of our team, and we look forward to celebrating your retirement with you.
Wishing you all the best in the years ahead and much-needed rest and relaxation! Congratulations on your retirement!
We hope your years ahead will be filled with laughter and good times. Happy Retirement! Enjoy every moment!
From the bottom of our hearts, we want to thank you for your time and dedication while working with us. You have been an amazing supporter and a wonderful example to everyone in the office.
We will never forget all of your hard work and everything you have done for us. We hope your years ahead will be filled with laughter, good times, and lots of smiles. Congratulations on your retirement! Enjoy every moment!
We thank you for all your dedication and hard work over the years – best wishes for a peaceful and stress-free retirement.
You have shown immense dedication and hard work over the years. Your effort and presence will be greatly missed.
We wish you a stress-free and peaceful retirement where you can enjoy all your favorite hobbies to your heart's content. Congrats on making it this far – have an amazing retirement!
Enjoy this new chapter of your life with family, hobbies, travel and much more…. Here's to a long, happy retirement!
Retirement can be a time of self-reflection. Here's to celebrating what you have achieved over the years and your dedication to the company.
This is the start of a new journey in life, take it easy and enjoy all that comes with this new chapter. Congratulations on retiring!
Don't Miss: Retirement Wishes for Boss
Touching Retirement Messages for Co-Workers
Retirement is a crucial part of life. If someone is an employee, they have to retire at a particular time. Similarly, if your colleague is going to retire, you must wish him/her using the best retirement wishes. You can get fruitful retirement wishes for colleagues by reading all the following wishes.
My colleague, there is no need to worry. You know retirement creates new opportunities to make a new future. My best wishes are with you.
I wish you a happy retirement session of your professional career. I know your career will never end after your retirement.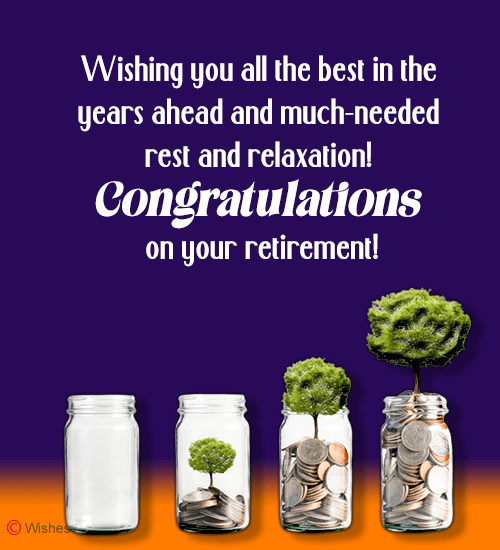 God bless you and help you to use your professional skills to keep going towards the home of glory. My colleague, you are brave, attentive, and able to face all difficulties. Best wishes
I heard about your sudden retirement. It was a piece of shocking news for me, and no one can support me like you. I will miss you throughout my remaining period in this company.
You deserve appreciation and medals for your hard work and honest relationship with us. You will be one of the leaders who played a vital role in the development of our company.
I wish a lot of happy retirement wishes to you, my dearest colleague. You are only who has all the secrets of our company. My best wishes are always with you.
We know this retirement will change your life forever. You will lose one company but able to join hundreds of new companies due to your skills. God bless you.
My colleague, you don't know that I will miss you so much. You helped me at various stages of my career. I appreciate your support.
We were best colleagues, but your retirement disconnected our relationship. My best wishes will always with you throughout your life.
You know understanding between colleagues is the most important thing. I am happy we worked together with full of understandings. Thanks you.
I can say that your working method and techniques were different from others. You have your own identity, which cannot be replaced by anyone else.
I can only say thank you for your great contribution to my success. You are going to retire, but I am progressing just because of your support.
My best wishes are with you and your upcoming job. You are an honest and talented person, and your future is more shining than me.
When I look at the sky, I think about you. The sky is far from me, and you are also going far to me. But I am sure I will be able to see you and contact you when needed.
Happy retirement and happy remaining life. Your family is your real treasure. I am glad because now you can spend more time with your treasure.
I wish to arrange and design thousands of retirement cards with your images. My colleague, you are a game changer, and you can rejoin our company because of your spending performance. Happy retirement.
You are going to be a senior expert in your field. You will have more time for experiments and open your own company. Accept my best wishes.
Cheers and be happy at all stages of your life. Your facial expressions show your happiness and satisfaction at the end of your career. I am happy you are satisfied with your performance. Happy Retirement.