Mother is a special member of every family. Every day is a day for mother and every son should spend more and more time with his mother. Mother's day is a good idea when you want to meet with your mother and show your love for her. In this regard, mothers day wishes messages can do a trick. You can get numerous mother's day wishes messages from son below.
Mother's Day Wishes Messages from Son
My mother, your smile is a lifeline for my heart. I feel glad when you look happy. I feel disappointed when you are sad. May God grant you a long life.
My mother is beautiful and unique. You have all the characteristics of a good mother. I admire your personality and your willpower to support family members.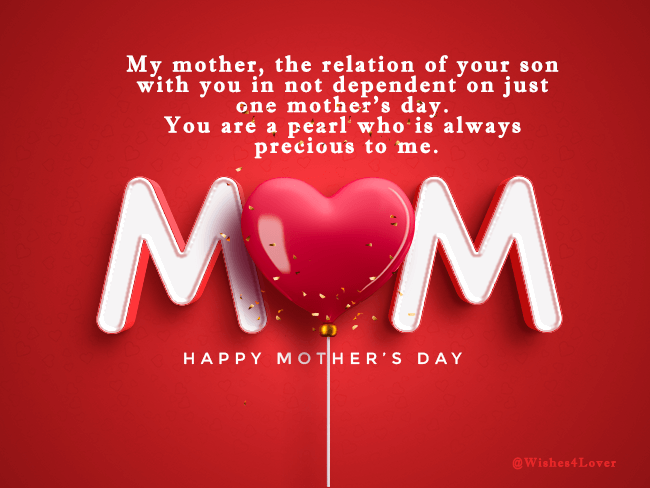 My mother, the relationship of your son with you is not dependent on just one mother's day. You are a pearl who is always precious to me.
For me, every day is mother's day and every year is mother's year. Thank you, my mom, you are a reason for my successful life.
I am wishing you a blessed happy day of mothers day. You deserve thousands of wishes from your son. I love you so much, my mom.
Thanks for everything you did for me, my mom. You gave me birth and helped me to stand in this world. I miss you all the time whenever you are not with me.
God knows everything about me. I can say that He also knows my deep love for you, my mother. I never want to lose you. Best wishes.
Accept my best wishes for your long life. I respect you and also respect others who are attached to you. May you enjoy this beautiful day with me, your son.
I accept that my mother is more important than my father. My mother always stands with me and supports me all the time. I respect her and am able to do anything for her.
Happy mothers day. My mother, there is no other day that is close to my heart. I love mothers day because it helps me to spend all day with you. Thank you for everything.
I am glad to see that my mother is always ready to help me. I enjoy it when I talk with my mother all day.
You are the most surpassing mother who knows how to satisfy the needs of different relations. You taught me everything which was essential for a happy life.
I wish you all the best for your remaining life, my pretty mom. You are the most beautiful woman in our complete family. May God help you all the time.
I was waiting for mothers day in this year. I have a lot of surprises for you, my mother. I love you so much.
I hope we can forget all the misunderstandings between us. I want you to forgive me and allow me to meet you, my mom. I really love you and wish you a happy mothers day.
I easily recall that your arms were always open whenever I looked for a hug. You give me shelter and helped me to set my life. Thank you.
My mother, your love is like glue for me. It is the love that always attracts me towards you. I am happy because our mutual love is increasing with each second.
It seems that the days are short because I am not satisfied. I want to spend more time with you, my mother. You are my oxygen and I wish I can see you throughout all day.
Nothing is like you and nothing can take your place, my beautiful mother. You know all the tricks and methods to support others. Thanks why everyone loves you.
I know the height of mother's love for her son. That's why I have no words to thank you. You are my mother and this is all for me. Happy mothers day.
My mother is my first friend and teacher. My mom, I always see your personality in different beautiful roles. I wish you all the best for your remaining long life.
There is no cure for my bad days but my mom. There is no one who can give me confidence but my mom. I love you my mom.
There is nothing that has more worth for me than my mom. You are an excellent mother who deserves hundreds of awards.
There are a lot of reasons why I want to see you and spend my time with you. I laugh and cry with you. I am thankful for your kindness to me.
Happy mothers day, my mom. We are connected with each other as a mom and son. May God increase our mutual love and allow us to help each other.
You are incredible, amazing, and a superb mom. There are a lot of joys in my life. Every single happiness is just because of you, my mom. I love you.
May God help us to fulfill our duties as son and mother. I know you always complete your duties but I am praying for myself. Thank you, my mother.
Love, respect, and passion are the bonds that attract me towards you, my mother. No matter in which region of the world I am, I always miss you. God bless you.
I cannot imagine how I can live a happy life without my mom. God, please grant a long happy life to my mom. I will be thankful for such huge kindness.
My mother, accept happy mothers day. You are my mother and I am proud of you. You are my sky and your love is the earth for me. I love you so much.