…m.The relationship between mother and daughter is truly based on love. For a daughter, every day can be a mother's day. However, the word mother's day has great importance. Every daughter tries her best to wish her mother and share happiness on this beautiful day. We are going to provide you several wishes about mother's day from daughter. You can read and get all of them below.
Mother's Day Wishes from Daughter
My mother, you are a treasure of oxygen for me. I cannot live a happy life without you, my mother. I am happy because I am your daughter.
No one can replace my mother for me. I am thankful to God for giving me such a caring mother. Happy mother's day.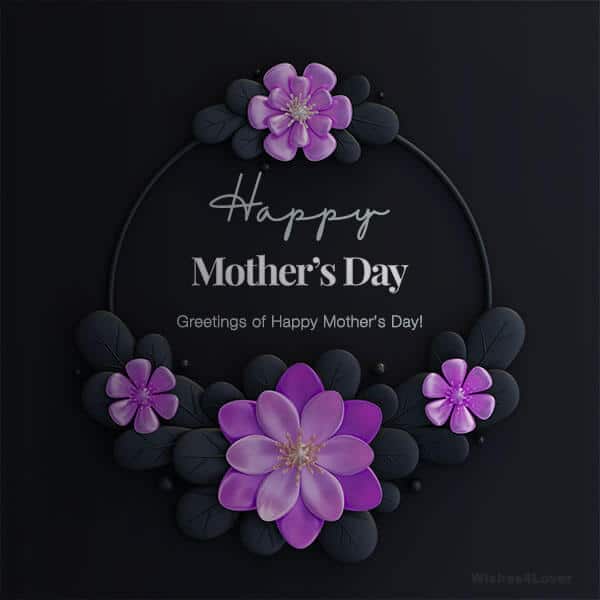 My mom, you are always with me whenever I need your support. I feel pride when I see your deep love for me. I love you too, my mom. Best wishes.
I know no one can count the stars in the sky. This situation is the same when someone wants to measure the love between me and my mother. Happy mother's day.
My mother, you are a great mom. Everyone in our family praises you and wants to see you happy. You are very hardworking and I love you so much.
I want to see a big smile on my mother's lips forever. My mother's smile is everything to me when I am sad. I feel happy when my mom is happy.
Mother's day is just a marked day to wish you, my lovely mother. The fact is that every day is a mother's day for me. I cannot imagine living without your presence. Have a long life.
I am glad because my heart has the blood which I received from my mom. My mom, you are the owner of my body. Happy mother's day.
Today is mother's day and I am wishing to the most beautiful and caring mother in this universe. Sure you will enjoy it with me on this special day. I love you, my mom.
I can write hundreds of mother's Day messages. However, I don't want to write them because my mom already knows my feelings about her. May God give you a long life.
Fortunately, my mom is also my friend. I can consult with her anytime on any topic. My life is full of happiness and enjoyment just because of my mother. I love my mother.
My mother, you helped me like a mother and a father too. I know I lost my father in my childhood but I never miss him because of your love, mom. God bless you.
I am always happy in all situations of my life because my mom is with me. My mother, you are my first and last friend. Happy mother's day to you.
Today is a day to hug and celebrate throughout twenty-four hours. I am lucky because you are my mother. You are lucky because I love you so much.
Nothing in this universe is more precious than my mom. I want to spend my complete life with my mom. My mother, thank you so much for your kindness.
Beautiful Mother's Day Messages for Mother
My mother, you are my love and passion. There is nothing that I can gift to you in return for your love. I love you so much.
My love is increasing for you day by day. I know my love for you is countless and have no limits. That's why it is increasing with every passing moment. Happy mothers day.
My mom, I cannot forget the days when you took care of me. I am always afraid to lose you at any stage of my life. I wish I can spend my life under your blessings.
There are no words that I can use for my pretty mom. I only can say that I love you so much, my beautiful mom. May God bless you with all the things which you want.
God help my mother to enjoy her life. May God grant all kinds of blessings to my beautiful mom. May God allow my mom to face all challenges in life. Happy mothers day.
Today is my favorite day because I have different reasons to meet and hug my mom. I feel pleasure whenever I spend time with you, my mom. God bless you.
My mom, accept my best wishes and greetings which are only for you. God is one and I am thankful to Him for giving me a happy life with you, my mother.
I can say that everything around me is sweet and enjoyable. This is all because my mother is around me. I wish you enjoy your long life for the upcoming hundreds of years.
Happy mothers day to my caring mother. You are like a sun for me because your shine always helps me and guides me. May God grant you a long happy life.
I know you enjoyed it when you were raising me. Now I am young and this is my duty to take care of you. I am very glad to have this opportunity. Best wishes.
My mom, allow me to look into your eyes and thank you. You are special to me and I can leave everything but cannot afford to leave you.
Happy mother's day, my mother. You have all the skills to attract others. I admire you for your help and kindness to me. Your personality is great and amazing. God bless you.
You are a strong pillar of our family. No other family member can take your place. I always smile when I look at your face. Happy mothers day.
Greetings and a lot of best wishes to my mother. You are a role model for me and all my family members. You have a great character and everyone wants to follow you. Best wishes.
My heart and soul are sincere with you, my mother. You are a queen for me and I love to live by following the rules you proposed. I love you, my dear Mom