Birthday wishes for nephew: The birthday wish is always very fantastic to hear by your known ones. Anyone with his birthday will definitely expect that his relatives will wish him at the beginning of that day to make it special and unforgettable. Among many other beautiful relations, you can enjoy your connection with your nephew and can wish him birthday wishes. It will help him to enjoy this event because of you and he will thankful to you. You can use our birthday wishes for nephew and can surprise your nephew.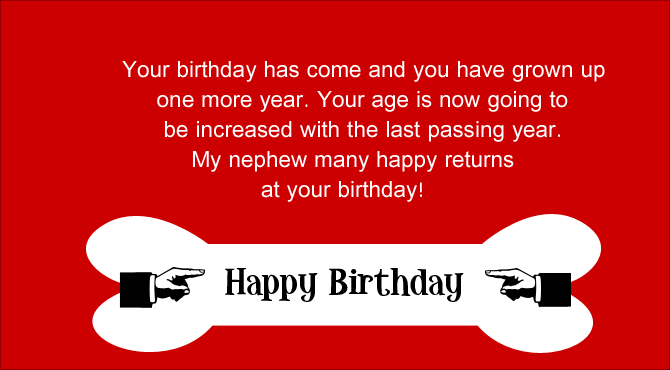 Happy Birthday Wishes for Nephew
Your birthday has come and you have grown up one more year. Your age is now going to be increased with the last passing year. My nephew many happy returns on your birthday!
---
I am very much happy on your birthday. Believe me; I was waiting for this day for a long time. Happy birthday!
---
Accept my happy birthday wishes at your birthday. Today is a charming day, and everyone is enjoying and celebrating your birthday.
---
I know I am your favorite uncle and remember that you are my favorite nephew. I can never forget you because you are most important part of my life.
---
Your birthday is again with us. I still can recall your last birthday and its enjoyment. Please be ready for the huge fun at your this birthday too.
---
I think your birthday is not only your birthday, it is also my birthday. I want to take advantages of this day and want to meet you.
---
My nephew, you are more than my son. I will be your guardian till last breath in my body with my soul. I wish you this birthday as the best of all of yours birthday!
---
My nephew, you are getting elder with every new birthday. I am sure that you will support all of your family soon.
---