Happy 25th Anniversary Wishes for Mom and Dad: Marriage is a relation in which two people commit to share every happiness and sorrows of their life. They spend their whole life supporting each other. After they become parents, their responsibilities increase. So their children also care for them and they prefer to see them happy.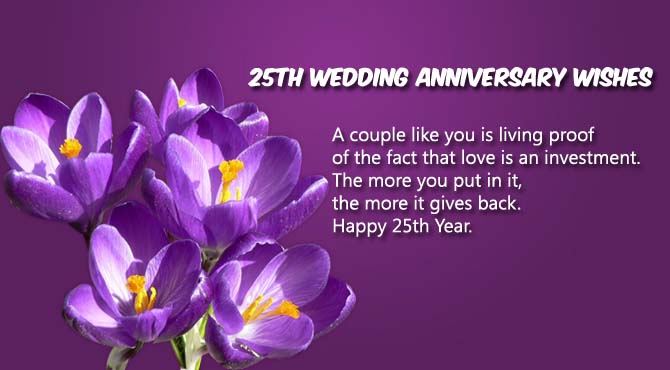 Happy 25th Anniversary Wishes for Mom and Dad
You both are the loveliest couple in the. You live together with a love that cannot be expected from all people. You always supported each other in times of difficulty. You never let you children feel unhappy.
---
You both are the prettiest thing of my world. I always want to see you both together. You both looks like the support of our home and we never want you to be apart. You both are the couple that every family needs.
---
You were always with each other in time of sorrows and difficulty, many times I saw you both tolerating each other's mistakes and faults. You actually taught us how to live happily and be patient in life.
---
Life is a combination of many milestones. We have divisions of our destination to be achieved. And in all case you supported us for approaching these milestones. Today I wish you for another milestone of your life that you achieved.
---
You both are the example of rocks. You deserve a real award in this life and eternity. You were there to face every problem of life together. You faced all the problems and never let us know about that.
---
I am always proud of you both, not because you are parents. I'm proud of you both because you are always an example of a strong and powerful relation in the world. You proved that your relation could never be ended and your love is not compete-able.
---
I never knew that why two people get apart and never will be because my parents are an example of a couple that can never be separated. I really want to be like my parents and live a life like my parents lived.
---
You successfully passed another year of love and togetherness, you both seems like the only lovers in the world. This is a time to enjoy and look on your upcoming life, to make it happier and loving.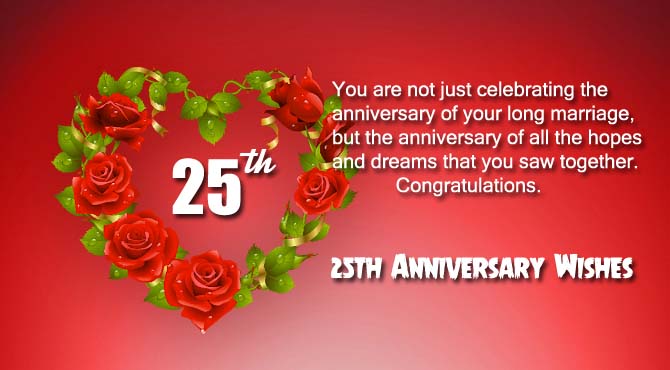 I know you both were happy when I was born and I was a gift for you both. But the prettiest thing I got in my life were you both. You have always been an example of love and prosperity for the whole world.
---
You may think that we have a happy family because of the children, but you know what I think? Our happy family is always happy because of we have parents like you.
---
With every passing year of your marriage, your relation is going more loving and affectionate your love and relation is being much strong as you both grew old. You are always a source of happiness for each other.
---
May this year of anniversary bring a lot of happiness and joys in your life. May you both always remain together, may you both always be happy, and may you both see a hundred year of togetherness in life.
---
Your anniversary is a happy anniversary, your first one and second were also a happy one, but this is the happiest anniversary because we are all here and enjoying this moment together. May you both never face any problem in life.
---
Usually, an anniversary is celebrated due to love between the relations but for me, your anniversary is celebrated because you both are a blessing of God for me. I never want to lose you and I want to see you both together with each other.
---
You both are so much attracted and love to each other that you don't need an anniversary to be happy because you both live each other every day. Your each day is a day of celebration and loving for each other. So I wish you each day with every anniversary day.
---
I wish a happy anniversary to you both because you always struggled for our happiness and always fulfilled our needs. You ignored your own needs and necessities to provide us the luxuries.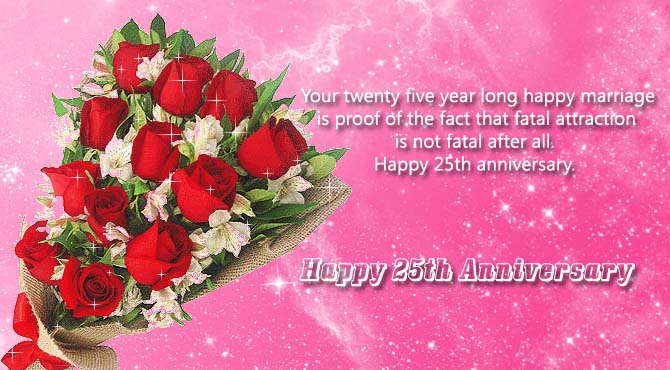 Your love and affection towards each other always taught us a lesson of love and successful life that can't be taught at any institute in the world. You make us able to love each other and spend a life full of happiness.
---
There are few days in my life when I go happy but the most important and happiest day is your marriage anniversary as it brings a lot of happiness and joy for me. You both make me happy when you both kisses each other, love each other or even you both quarrels.
---
May the major challenges in your life be limited and may you live like a solid rock. A rock that never can be affected by any kind of wave. It just bears it never let anybody know. Life of you both is such an example for us.
---
It was your marriage which made us live together, you always struggled to make us all happy, and you never let us see any difficulty in life. You were like an umbrella that was saving us from that rains of life.
---
Anniversary is a moment to refresh the memories, love and promises of life. But in your case, it is not valid because you never let your happiness and promises go faint.
---
I learned about love in life, school and college but never got something really worthy. All I got about love in my life was a relation of you two. I always wish you both to be happy and together.
---
25 year of love, happiness with little fights make our lives full of joy and memorable. May God bless you and you both remain together for whole life.
---