Good luck messages for exams: If any of your companions or family members are in the process of exams, you can encourage them by sending them some good luck messages. Every student has to prepare the exams in order to pass them and get success in the life. Although the stress and pressure of exams are very high, yet some good luck wishes can make someone feeling comfortable without any stress. In order to make your friends or relatives stress less, you can send them some good luck messages as mentioned below.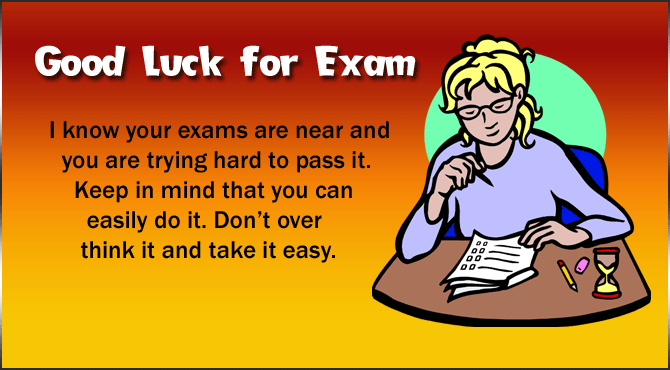 Good Luck Messages for Exam
My dear, don't be afraid. There is nothing to be afraid of exams. Just work hard and get ready for your exams. Good luck!
---
I know your exams are near and you are trying hard to pass it. Keep in mind that you can easily do it. Don't over think it and take it easy.
---
My dear, the easiest way to pass your exams is to treat them easily. I know you are a hard working student and I am praying for you too. Good luck!
---
You have been working very hard my dear. I am proud of you. Good luck for all of your examinations.
---
May your exams pass without any problems and you get amazing grades in your exams! Never give up dear. Good luck!
---
My dear, make a plan for your exams and strictly follow it. Don't stick to it and also don't make it impossible. I wish you good luck for your exams.
---
Don't worry too much about your exams my dear. You are just supposed to do some hard work, and you will pass it.
---
There is a lot of competition nowadays. In this regard, you will have to work hard to make a name in this world. Good luck for your exams.
Best Wishes for your Test
I am sure that you will easily score high marks in these exams as you are a brilliant student. By the way, good luck to you for your exams!
---
May God grant you the strength to handle all the problems of your life. However, your exams are not problems, this is just a challenge for you, and you can pass it easily.
---
My dear, take your time to prepare for your exams. But don't over study as you might harm your health.
---
Good luck for your exams. I advise you to study according to a proper time table. Sleep well, eat well and then study.
---
Do all your efforts to pass your exams. Don't take it too easy or too difficult. Good luck to you!
---
A proper study requires an adequate rest time. So study and rest are supposed to be adopted equally.
---
Although there is a lot of effort for your exams, you will have a successful day after all. Good luck to you my dear.
---
This is just a step for your success in the life. Pass it and prepare yourself for the next one. All this effort will give you the heights of success.
---