Funny Wedding Anniversary Quotes for Husband: Marriage is the name of strength between two hearts, which are bound from trust and love which they shares and believes. Ups and downs are the part of life but remain together is the ultimate goal of the marriage. As serious wishes are important funny wishes also played the romantic role in expressing the feelings.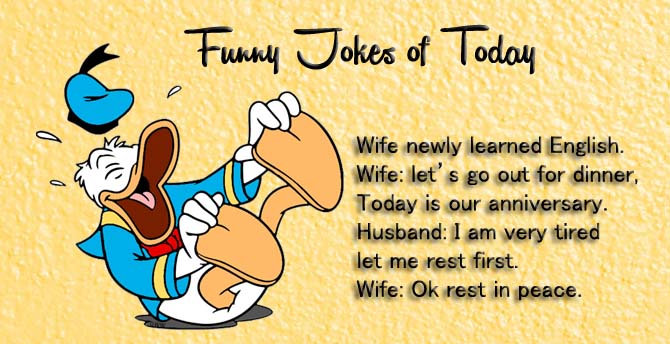 Funny Wedding Anniversary Quotes for Husband
Here some of the funny messages for your husband.
Wife: I think we should slay a goat on our anniversary.
Husband: It was my mistake, so you cannot punish a goat for that.
---
Wife: It's our wedding Anniversary we should do something.
Husband: Let's take a few moments of silence for this sad incidence.
---
If you ever feel sad. Watch your marriage video in other direction. Wife will remove her ring, leave your car and will return to her home.
---
Wife newly learned English.
Wife: let's go out for dinner, today is our anniversary.
Husband: I am very tired let me rest first.
Wife: Ok rest in peace.
---
1st man: What is happiness?
2nd man: I don't know brother. I was married in small age.
---
Thought of the day: don't estimate someone from his small car or old dresses. May be he is married.
---
We have done a lot together, I did many rude things with you, I am bad and I wonder why you are with me? Definitely because you are just like me.
---
Every year on anniversary I think that what things made live with you, you are a mad, boring and duffer but you know I still likes you because you love me.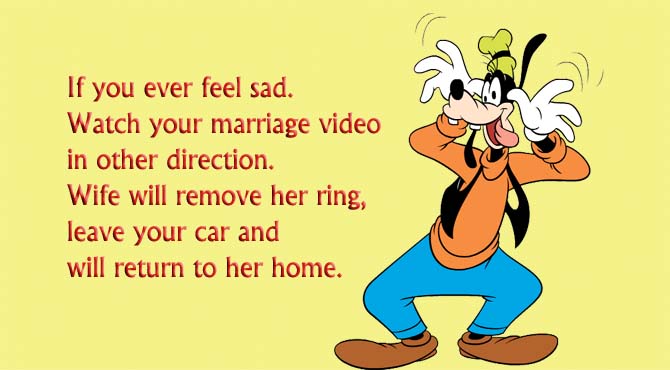 I remember our anniversary but I think its ok to remember our birthday. So wish you a happy anniversary with different style.
---
As two poles attract each other, we both were attracting each other and then this was a day when we fell in well, errrr marriage and the we started our war, errrr life.
---
I can't express my feelings about you. No words can express these feelings how I can express feelings about you I don't even have feelings for you. Only I mistake is sure that I am married to you.
---
You know why I love you? You gave me hundred reasons to love you. I thought I have to do laundry and home tasks after marriage but thanks to you that you are doing all this yourself and that a reason why I really loved you.
---
The common thing we had was that we both were mad and thanks for accepting me and making me realize that you are mad also and also for staying with me.
---
I can't imagine a life without you, don't even think of a moment without you. Not because I love you, because I will be doing washing dishes and doing laundry without you.
---
First I thought what happiness is, the after marrying you I realized what happiness was and then I woke up, it's already too late.
---
Some things are not meant to happen and some are not meant to end but we want these thing s to do so. So I want to end my to start loving you which cannot be started and I want to end this marriage which cannot be ended because your mom is a fat policeman over me.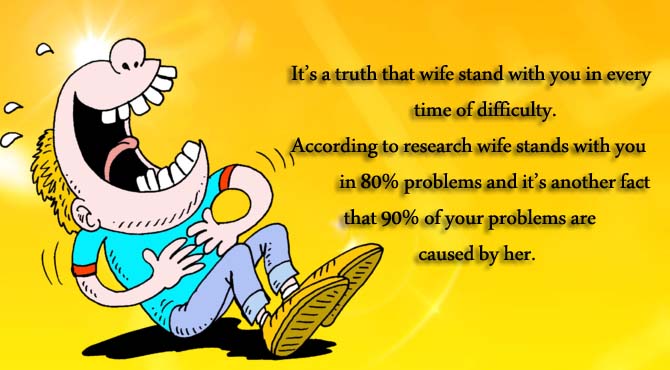 I am satisfied that all these year ago I found someone to annoy with for the rest of my life so I don't need anyone else to be annoyed with.
---
Thank you for standing in hard times with me when you put us in trouble and move all you mistakes upon me.
---
It's a truth that wife stand with you in every time of difficulty. According to research wife stands with you in 80% problems and it's another fact that 90% of your problems are caused by her.
---
I know you will forget our anniversary and then you will pretend that you found a wishing card and a gift for me under the bed so you can pretend you didn't.
---
Thanks a lot for giving me so much love and romance, you give me opportunity to become the good wife and now in future good mother. Happy wedding anniversary to my chubby husband.
---
I can't imagine life living without you, because you cook everything for me. Feel me relax all the time with your cheeps joke. Happy wedding anniversary to my handsome and rocket husband.
---
It's just a fact, after too much fighting and kidding on high level, we are together this means we made for each other. Happy wedding anniversary to my fun loving husband.
---
Its shows your love to me, I did all the fools and rubbish so far but are still with me. I am just speechless. I love you dear and you make me wonder, after all you are my husband. Happy anniversary.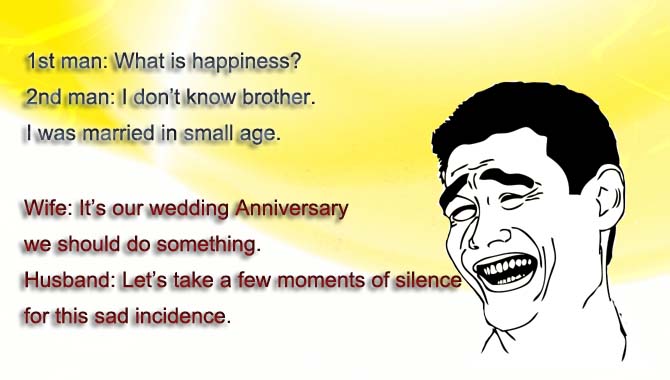 Wishing you a very cool anniversary like me, which make your plan wild and tough enough to responds, you always ignore me and love me. Happy wedding anniversary to my chubby husband.
---
If I leave you from right on spot all the works should be done from me at home, so I love you and never leave you. Happy anniversary.
---
Last night I am thinking I am the luckiest woman on the planet due to its beauty but sudden I realize that I am your wife, my all happiness goes viral. Just kidding and happy anniversary.
---
You love me, I love you, you trust me, I trust you, you kiss me, I kiss you, as the result I am the mother of your children. Happy anniversary.
---
If I have a wish to change one thing in the past, I will change my decision of marring with you. Happy wedding anniversary to my wonderful husband.
---
You are not as perfect as I am, but still we are together, this is the only thing I learned from you any way happy anniversary to you.
---
I am failed to think why you choose me as a wife, I have not a single quality of great wife and beautiful wife but you still loves me its miracle. Happy wedding anniversary.
---
Your actions prove that you have endless crush on me, you always shedding to be in home and passes time with me. You go wild in your love anyway happy anniversary.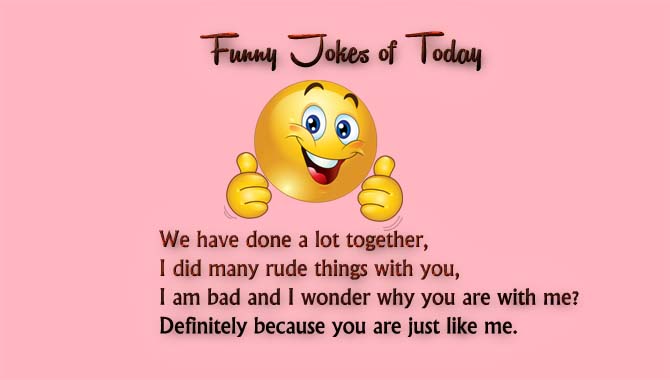 After all these rubbish talks and decisions we still make enough to complete another year of marriage life. All burden goes to you, you always give up and stands next to me. Happy anniversary.
---
I think I am the girl in the planet who had the silly and funny husband like you, who give his 100% to make me happy and relax. Happy anniversary to romantic hubby.
---
The way you love me, take me into your hands, kisses me in my face, make me horney and all the pleasure which I got from you is graceful.
---
All the trouble we meant together are just because of your fool decisions but on the other hand we are still together and I love you the most. Happy wedding anniversary.
---
This time also you forget to wish me first, no matter I knew you are a fool and not anything else. Happy wedding anniversary to my romantic husband.
---
Today I did my one of wrong decision about my life, but slowly slowly I realize you are not as that what I am thinking. Happy wedding anniversary to my beloved husband.
---
I really deserve a trophy and reward of staying with you. This is really a miracle of being with you. Happy anniversary.
---
There are no words which will explain my silly toughs about you which exactly express my feelings for you, that's a good sign for our relationship happy anniversary.
---