Colleagues are an important part of a company and play a vital role in the overall progress of the enterprise. It is hard when some colleagues are leaving the company no matter for which reason. You can send your colleagues some farewell messages to encourage them. You can wish them for their good future and anything else like this. In other words, the best way of saying goodbye to your colleagues is to wish them farewell messages. Below are some outstanding farewell messages for colleagues.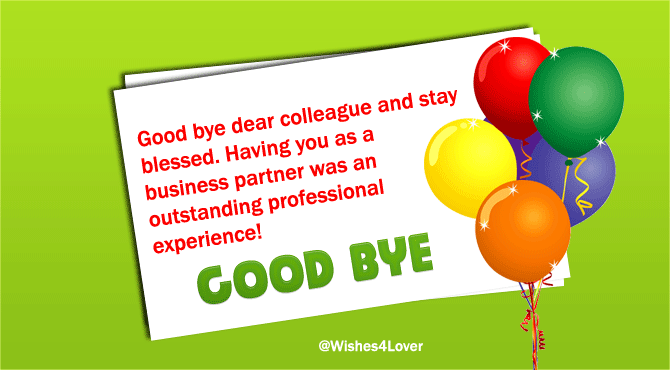 Farewell Messages for Colleagues
You are not my colleague, you are just like my friend and I have a good relation with you. I wish you an excellent future.
---
You did a lot of efforts for the company and I am very happy on this. May you get a lot of successful moments in your life!
---
I will never forget your efforts and impact you have made for the company. Stay blessed and keep smiling.
---
I think no other colleague can do your job better than you and I am proud of you. Good luck for your future.
---
I am feeling very sad that you are leaving our company but I am sure we will maintain our relationship as friends. Thanks for the efforts you gave to our company.
---
You have an appreciated and high-quality talent and I am sure you will get the heights of success in your life. Good luck!
---
Although you are leaving my company but you will remain in my heart forever. God bless you a lot.
---
Goodbye, dear colleague. I will recall you in my heart as a friend. May you get another fantastic and even better job than this!
---
It was always a pleasure working with you, but I know you are leaving this company now. So I am sorrowful. By the way best regards for your future!
---
I will be missing the tasks, the routine and the relation of yours with me forever. My all prayers and wishes are with you.
---
I am wishing you farewell message as you are leaving our company now. May you get a lot of happiness and success in your life!
---
On your farewell, I advise you to work hard in your life to get success. Never give up and face the problems and hurdles of your life steadily.
---
The experience you got by working for this company will help you a lot for your future jobs and tasks. I will remember you in my prayers. Goodbye!
---
My dear colleague, you are one of my favorite colleagues and I always enjoyed your company. I learned a lot from you and I am happy that I was blessed to work with a colleague like you.
---
I am worried about the company loss that will occur after your leaving. This is because of I think no other person can do better job than you.
---
Good bye dear colleague and stay blessed. Having you as a business partner was an outstanding professional experience!
---
Thanks for your hardworking and works for our company. We will never forget you. Thanks a lot and goodbye.
---