25th Wedding Anniversary Wishes for Uncle and Aunty: Wishing anniversary to your dear ones is always amazing. Your older are always an inspiration for us in every aspect of life. Wish you older in their wedding anniversary and make them feel proud they are successful in their marriage life. The marriage years are the best year of their life and here are some of the exciting messages for the 25th wedding anniversary.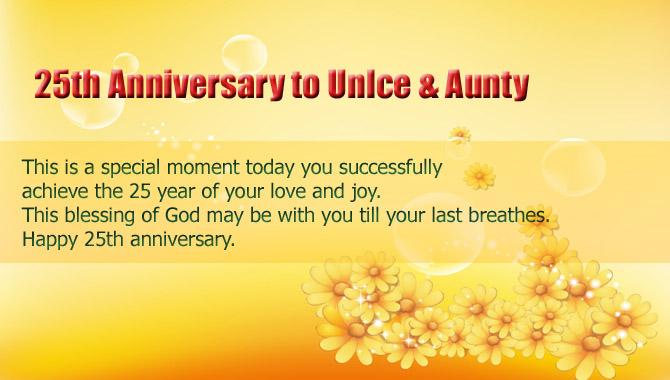 25th Wedding Anniversary Wishes for Uncle and Aunty
This is a special moment today you successfully achieve 25 years of love and joy. This blessing of God may be with you till your last breaths. Happy 25th.
This is phenomenal the way you share love and happiness with each other, always live together. No matter where. Happy 25th.
You make such an amazing couple; you are ideal for us even in marriage life also. The way you lead the relation is just fabulous and you are a wonderful couple. Happy 25th
I learned a lot from you, either it's business or love, you are always together no matter what circumstances out there. You are just superb and happy 25th
When I look back to the past your love is constantly increasing with the passage of time. This is the true blessings of God on you. Your love remains the same in the future also. Happy 25th
Best wishes to uncle and aunty, love between you will be forever and countless. You are the wonderful couple on this planet. Happy 25th
Today I am in a tough situation to find the right words for you, you are the one who gives us hope and you are the happiest and luckiest person on the planet whose love for his wife is solid as a diamond.
Every anniversary you are dressing like today is your wedding, this shows the love between you and the success of your love and happiness. Happy 25th
God makes you for each other, in my view, you are the happiest and a lovely couple so far on the planet. This blessing may be continued in the future. Happy 25th
This is a special moment for you. You are my ideal couple. The way you brings smile and happiness in between you is just regardless and amazing. Although, you are my uncle and aunt. Happy 25th
Don't Miss: Wedding Anniversary Wishes for Couple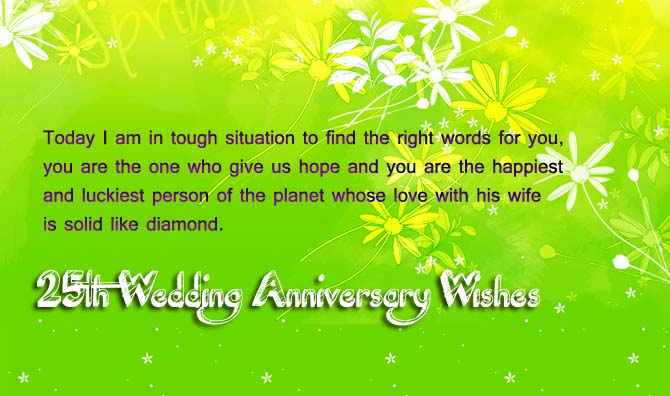 Marriage Anniversary Messages for Uncle & Aunty
God has sent me a precious gift in the form of uncle and aunty. Being a family of yours is a proud moment for me. This family is every else dream which I have. Happy 25th
Happy 25th anniversary to dear uncle and aunty you are just amazing with your love and integrity. I believe your love in the future also remains the same either its increases.
Wishes you a very Happy 25th anniversary on this beautiful day. God will continue his showers of blessings on you in the form of love and happiness.
On every anniversary I see such an excitement shining in your eyes, this shows me the love you share with each other is comment less. Happy 25th
From the very first anniversary to this anniversary, I remembered your couple is the best, you still cheer each other and also support when it's needed. Happy 25th Anniversary to a lovely couple.
Best wishes to uncle and aunty on this beautiful day, I believe that the love insides are greater than the air which is present in the universe. You are an inspiring personality for me and others as well. Happy 25th
You are not sincere with each other, the way you guide all of us in every aspect of life is extraordinary. This love between you remains forever and enjoys the beautiful fruit of the earth and form of love and wife. Happy 25th
In past, I remembered when I came to the wedding and you are very excited, it shows your love, but when I saw aunty, I am speechless she is more exciting than you. This shows the love between you and aunty and today also your excitement remains the same. Happy 25th
You are happy. You love your wife, but you're the happiest as well because your wife loves you back too. Happy 25th
Your heart may fill with love for each other and wish you a very Happy 25th anniversary to the wonderful couple.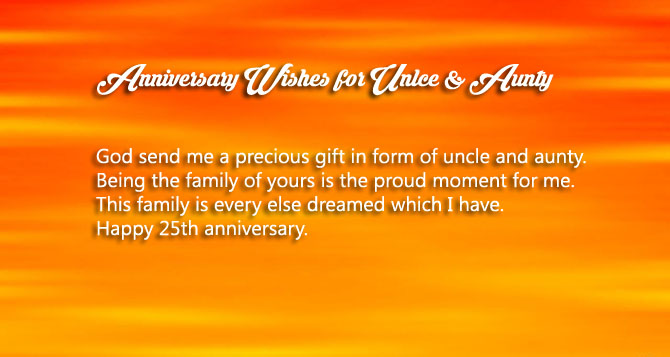 Wedding Anniversary Quotes for Uncle and Aunty
25 years of life matters, but when these years are spent with someone they actually mean a lot. You love someone, support her and then you don't even count it. That's a feeling which can't be expressed with words. This day was a day when you got to engage with each other.
It takes a moment to commit love with someone but it takes real-time to fulfill this commitment. If I want to see the best example, it always leads me to you. As you beautifully spent these 25 years.
I always remember the day you both got engaged, you were a couple always to be remembered, I pray that may every couple get love like you.
May you be with each other for your whole life, as you always did. You are the people who create an example of love for others.
There is beauty in every personality of this world, but when a couple of beauties comes together, no one can imagine the beauty of such a relation.
I present you, all the colors of the world, flowers of all color, the scent of all the flowers, moments of all scent, and a pray for a life full of these moments on your wedding anniversary.
May you always be with each other, may you never be angry with each other, may you spend your life like you never miss even a single moment of your happiness.
Gorgeous moments of gorgeous people and the lights of these gorgeous moments may always keep waiting for you.
The moment of your anniversary has arrived, be happy always because no one can imagine how beautifully you have created your beautiful world. Always keep it safe.
You are our loved ones who always fill the happiness with colors. May your couple always remain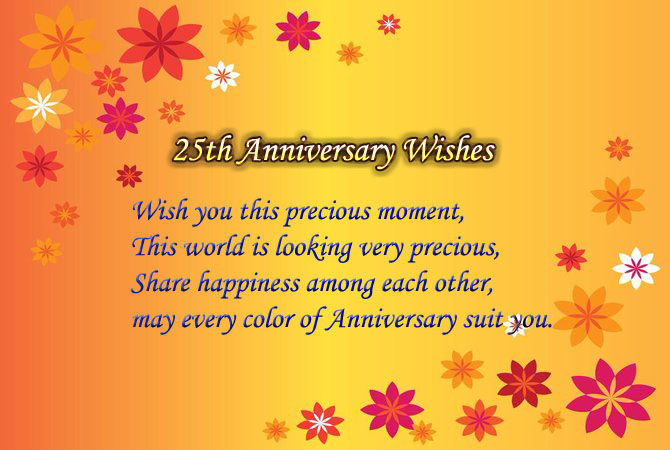 Silver Jubilee Anniversary for Uncle & Aunty
May your couple remains happy forever. Countless love flow in your life and every day remain full of attractions and every evening spend in the presence of each other.
Wish you this precious moment, this world is looking very precious, share happiness with each other, may every color of Anniversary suit you.
Flowers are blooming in the way of life, a smile is flashing in your eyes, and may you get happiness at every step. This is what my heart is praying for again and again.
I pray that you remain together for as long as there are stars in the sky, hairs on the head of a Russian boy and you never have to cry.
May your eyes shine like stars, your lips always filled with smiles, and may you never face any problem in your relationship, and May you always make the enemies jealous.
May your destination be clear always, your definition must be in a way that no relevancy must leave behind, and at last, it is prayed to God that his blessings always be with you.
I can see the flowers which are showering their petals on your way. I think they are welcoming you for a bright and happy future in your relationship.
Your relation is like a sun that glows at its peak to assure its presence. Your love is like a moon that lights the world even in dark places. May all these things be with you forever. That's what I really want to do.
Today I woke up and saw that there is a pretty feeling in the environment, there is a sweetness in the wind, there is a breeze that satisfies the worried one. Of course, it's your love that is surrounded all over the world today.
This day belongs to you forever. This day will surely enlighten you again and again in life. Every morning will be a morning of new happiness and you will never face distance in life. This is a pray from the core of my heart.
25th Wedding Anniversary Wishes for Aunt and Uncle
1You are a very important couple for me on this earth. You are the only one who has made this world more enjoyable than heaven.
I want to present all roses and fragrances from all across the world at your silver jubilee. It may help you to celebrate it with more likeness and avoiding disturbances.
I can assume that You, husband and wife have faced different conditions in your life together. Now you are more close and ready to face all upcoming difficulties if any.
Your experience of twenty-five years is not usual because not all couples hit their silver anniversary. Happy anniversary and best wishes for your bright future.
You are a romantic couple and to see you together is my pleasure. You are very sweet because you both are smart. Also, you are lovable because of your patience and wisdom.