26 Sep 2017
Good Morning Messages for Friends
Good Morning Messages for Friends: Whishing your friend best wishes can make his day better. Everyone in your life is special, and you can get some amazing compliments by wishing them a good morning message. Not only this, your friend will feel important and special after your wish, and this can change his whole day. You can simply send your friend great wishes for morning to help him make his day great. Although a small wish doesn't look an effective thing, yet it has many effects on someone's mood and personality. Unique and good morning messages for a friend are below.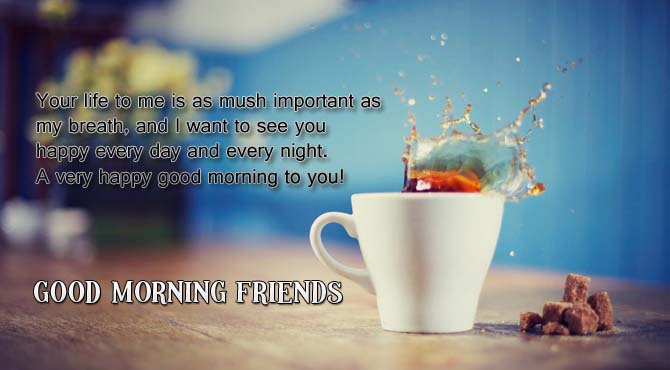 Good Morning Messages for Friends
You have been blessed with a new morning. Make the greatest of it and have a lovely and amazing day.
---
The sun has risen with a new day. I wish you a great day with a lot of happiness and joy.
---
My friend, you are a crucial person to me. I desire you to be with me for my whole life. Keep smiling and be happy.
---
Your life to me is as much important as my breath, and I want to see you happy every day and every night. A very Happy good morning to you!
---
The sun is rising and the new day is starting. I want to meet you with new wishes and new feelings.
---
A new morning is a sign of new life for you, and I wish you a happy new life to you. May your life be the happiest one in the world because you are most important to me.
---
The previous night has gone and the new day is coming with new feelings, new people and new opportunities. In this regard, I wish you a very happy good morning with true feelings.
---
Happy good morning my friend! Wake up, take healthy breakfast, have a bit of exercise and be ready for the new task and new challenges for the new day.
Must Read: Good Morning Messages for Wife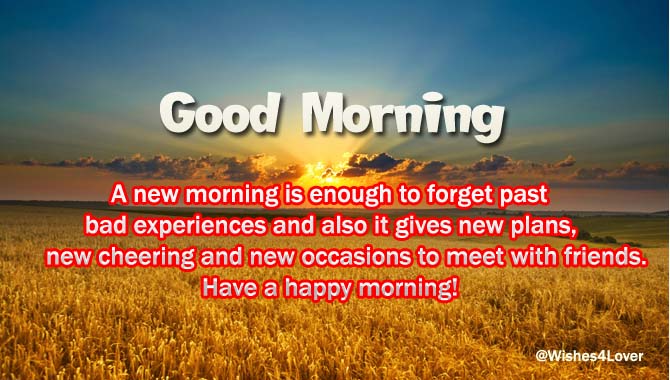 Good Morning Wishes for Best Friend
I am always seeing you in the new day with great wishes and feelings. It means for every new day; you are a special person in my life.
---
Dear friend, you are one of the special person in my life. So I want to see you happy and strong.
---
Just like the sun is necessary for the shine of every new day, you are necessary to me, and you are a sign of joy and happiness for me.
---
The new day provides you the opportunities to turn your dreams into reality. So work hard and be a successful person in the life.
---
I feel you are an important person to me. So I am always ready to wish you, to help you and to give you a reason to smile.
---
My dear friend, good morning! Never forget to smile as your smile is very important to me, and I want to see you happy all the time.
---
All of my great wishes are just for you, just to make you happy and just to support you to face the challenges in your life.
---
Good morning dear friend! Every new day comes with a lot of tasks and works. So be ready and don't forget me as we are just like family to each other.
---
Whenever I see you or imagine about you, I feel I am a lucky person that I got a friend like you.
---
Your breakfast is ready. This morning is providing you new opportunities for a delicious breakfast. Good morning and enjoy the meal.
---
My friend, this early time I am sending you good morning message. I am sure it will help you to recall our plans for today.
---
Morning is a perfect time when friends can meet and enjoy. It is a very agreeable time to enjoy a cup of coffee at a restaurant. Good Morning.
---
life is entirely dependent on mornings. I don't know what will happen if there is no morning anymore in our relation.
---
A new morning is enough to forget past bad experiences and also it gives new plans, new cheering and new occasions to meet with friends. Have a happy morning!
---
I suppose that you are still sleeping, but I am awake to write and convey my heartiest good morning greetings to you.
---
Please Take 5 Second to Share to Your Lover Friends & Family
_________________________________________________________________
_________________________________________________________________